Mad Men Season 5 Premiere Recap
Mad Men's 5 Maddest Moments: Season Premiere "A Little Kiss"
Mad Men is finally back this week, and we've jumped about a year forward with the two-hour season five opener. It's a new year, and there are new secretaries, new accounts, and new adjustments in the personal lives of the denizens of Sterling Cooper Draper Pryce. It's the brink of Summer and Don's 40th birthday, and where SCDP was scrambling after losing Lucky Strike at the end of last season, business seems pretty stable now, but as usual, there's still discord within the ranks of the company.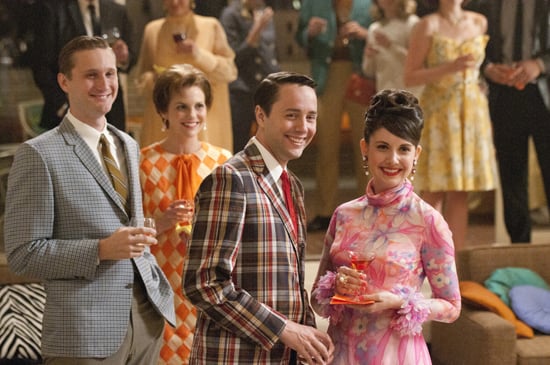 Between bean ballets, French dance numbers, and the party, there's a surprising amount of lightness this week (and an unusual amount of jokes for Mad Men). The episode serves mostly to catch us up with the characters after a year rather than lots of plot development, but there are plenty of mad moments to go over. To see them, keep reading.
Surprise, indeed: Don's busy schedule includes flirting with his wife Megan, who's still working at SCDP (but is now in the art department). Sally and the kids visit their new apartment, and Megan throws Don a contentious surprise party that weekend. Most of the office is there, and everyone seems to be having a good time, especially when "sexpot" Megan sings Don a little tune in French that consists mainly of the words "Zou Bisou Bisou" (did her little dance remind anyone else of that French teen dancing skit on Saturday Night Live?). Though it looks like Don is having fun, he complains when the party ends that he was embarrassed and admonishes Megan for wasting money on it.
Bloody nose: At home, Pete's a little underwhelmed with post-baby Trudy, and at work, he's tired of Roger showing up to his meetings and showing him up in general. Pete decides he should have Roger's office, so Roger brokers a trade with Harry (whom, incidentally, we learn that Don doesn't like. Who knew?). The meeting between Roger and Harry that ends with Roger handing $1100 over and telling Harry to "get the hell out of my office" is priceless.
Oh, mama: Joanie is having a rough time adjusting to life as a new mom, mostly because she misses work so much. Her mother isn't making it that much easier either, whether she's telling Joan she shouldn't go back to her job or tossing barbs about her weight (rude). When she stops into the office because she's afraid she's being replaced, she has a sweet scene with Lane, who tells her the books are falling apart without her. He also jokes with her about what she's missed (sample dialogue: "There have been no jokes, not without you!") and comforts her when she cries. I love the sort-of awkward moment when Roger sees her in the office and declares, "There's my baby!" — meaning Joan.
Peggy problems: I'm happy to see Peggy in a relationship with Abe, and aside from troubles at work, she seems happy. Those troubles, like trying to nail down a concept for Heinz beans, are pretty minimal for what Peggy has had to deal with in the past. When she says something snarky about having to work over the weekend to Don, she immediately regrets it, but like Megan points out, Peggy is pretty good at saying what she thinks. I can't wait to hear what else comes out of her mouth this season.
Wifey: Megan can't really catch a break, but she is trying so hard (maybe that's the problem). She's pretty good with the kids, except for Sally seeing a bit too much butt crack in the morning. Megan likes working at SCDP, but after the party, she's an easy target. Roger makes fun of her song and dance (as he should), and Harry gives a particularly skeezy speech about her when she's right behind him (I'm starting to see why Don dislikes him so much). When she gets upset at work with Peggy, she heads home, where Don interrupts a lingerie-clad cleaning session. They fight, which turns into a mildly rough sex scene between Don and the new missus, but Megan confesses at the end of it that maybe she doesn't like the people in the office after all.
I enjoyed this episode even if there aren't major developments just yet, mainly because I've missed the show so much. Also, it helps that everyone is such a jokester this week (my favorite line might be "No, but give Morticia and Lurch my love." Good one, Don.). What did you think of the premiere now that you've caught up with everyone after so long?