Mad Men Season 6 Finale Recap
Mad Men's 5 Maddest Moments: Season Finale "In Care Of"
Put away your brandy and suede fringed jackets, because Mad Men has wrapped its sixth season. The show's final episode doesn't have any mind-blowing deaths (just a mildly questionable one) and included some eyebrow-raising admissions instead. Don makes a big decision about his and Megan's future — then promptly goes back on his plan — while Pete's tenure in Detroit proves relatively short, and Ted's relationship with Peggy comes to a head. Certainly some of this season's story lines come to a close, but as any Mad Men fan knows, even more doors have opened up.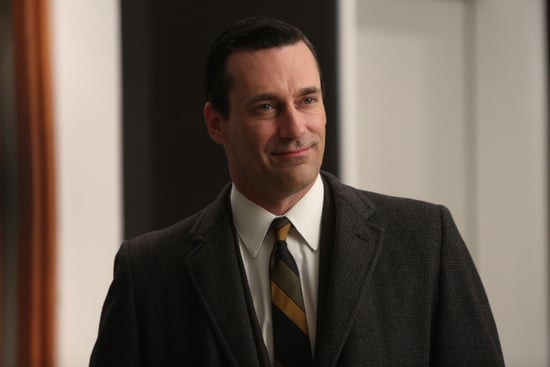 "In Care Of" is a great season ender: there's not a ton of new crazy information about Don's past, but instead he's finally making a decision to share what we already know about his life with his peers and family. But enough about that — let's go back to the beginning, when a bender lands Don in a jail cell. I'm going over the maddest moments from the episode after the jump.
Is honesty really the best policy? Don has been running from his past the entire series, but he's had enough. After waking up in a jail cell, he tells Megan he wants to move to California for the Sunkist account, despite his thoughts on Los Angeles: "It's like Detroit, with palm trees." Oh, and he finally cops to having a drinking problem. His joyous moment doesn't last, and he suffers a major misstep in a conference with Hershey's. At first, I was thinking how wonderfully classic it is to see Don weaving a tale in front of some suits. Then I realized he's lying about his happy memories of earning a Hershey's bar from his dad after mowing the lawn. Like lightning, Don is struck with the truth as well, so he tells the room full of men about his childhood growing up in a whorehouse. Ironically, the one true thing Don says around his coworkers earns him an indefinite suspension from SC&P.
The truth will set you free. Don's honest streak doesn't end at the office. Sally's life is mirroring Don's more closely than ever: while his partners force him to take a leave of absence due to his erratic behavior, Sally has been suspended from boarding school for buying beer. The first thing Don does on leave is pick up his kids and show them the old house where he grew up. I like Bobby's surface impression of Don's old hood: "This is a bad neighborhood." A meaningful glance between Don and Sally is the last image we see of the season. Will Don's honesty mend his relationship with his daughter?
The other woman. Ted's wife drops by the agency, and Peggy reacts like a mad woman scorned. She retaliates by dressing up like a lady of the night and announces that she's leaving early because she has plans. Ted's face practically melts off at the sight of her cleavage, and by the time she gets back to her apartment, he's creepily waiting in her building. Cue the moral dilemma, then the hookup. I cringed when he promises her he's going to leave his wife, because as you may have guessed, he doesn't. In fact, he begs Don to let him take his place in LA so he can get away from Peggy, which, much to Megan's rage, Don eventually agrees to. I have to admit, I'm a little disgusted with both Peggy and Ted. His whole "I don't want anyone else to have you" thing is so cliché, while her "I don't want a scandal — I can wait" thing is incredibly naive.
My love, my life, and my lady is the sea. Good news, murder lovers: someone dies! Bad news: it's not really anyone we care about. (Or would that be good news, too? This show makes people so jaded.) Pete's mom "falls" overboard on a cruise, and authorities pronounce her missing at sea. That's not all: she married Manolo before she fell to her shark-infested presumed grave. Pete is livid! In fact, he's feeling a lot of emotions, embarrassment being another. Bob sets him up in Detroit, and Pete ends up backing into the giant GM sign in the company's lobby. He is mortified — I was laughing hysterically. Pete also becomes another refugee headed to LA. But what's with the lack of Bob Benson in this episode? I was hoping for more closure on that case; guess we'll have to wait until next season. Benson bummer.
Let the right one in. Roger has been getting the shaft all season. We've barely gotten any Roger time, and his daughter feels just as neglected as I do. She's pissed that he's stingy with her and she practically writes him off. What's a shunned grandfather to do? Pick up with his former mistress and love child, of course. I'm glad Joan lets him come to Thanksgiving, even though it appears she's holding him at a distance. Smart move, Joan.
What did you think of the season finale?