Mad Men Season 6 Premiere Recap
Mad Men's 5 Maddest Moments: Season Premiere "The Doorway"
Mad Men is finally back! The season six premiere opens on Christmas 1967 among lots of big events: a stranger's wedding, the impending Super Bowl, and a funeral. The time jump is evidenced by much more hair in general on the heads and faces of the staff, along with the career progressions of some of the characters. As usual, Don seems to be on the edge of something, even though his life still looks to be perfect from the outside.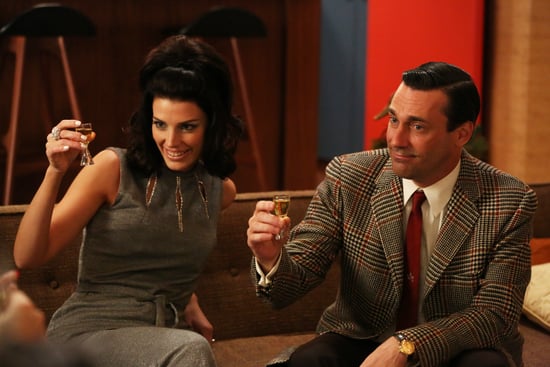 I'm excited to get into another new season of Mad Men, although the question that the season six promo raised about whether Don is happy appears to be a big no, if his latest actions are any indication. Ready to break it all down? Get the five maddest moments of the season premiere after the jump.
Don's death obsession reaches new heights. There are signs of mortality everywhere for Don, starting with the scene of a doorman collapsing in front of him. Then, on a relaxing vacation to check out the Royal Hawaiian, Don meets a soldier, talking of his imminent death, who asks Don to give his bride away, because one day, the guy says he'll be "the man who can't sleep and talks to strangers in bars." Don obliges, but the experience unsettles him, and when they accidentally switch lighters, Don tries to get rid of it. (If you missed the inscription on the lighter, it reads, "In life we often have to do things that are just not our bag.") Later, he pitches a heaven-like vision for Royal Hawaiian, which the client doesn't go for, feeling it's too evocative of suicide. It's sort of comical when Don drunkenly confronts the doorman over what he saw when he almost died, except that I'm truly worried for Don. Is he contemplating Lane Pryce's way out?
Betty goes grunge. On the lookout for a friend of Sally's, precocious violinist Sandy, Betty ends up in a hovel at St. Mark's Place. It's such a different setting for her, but clearly she's looking for a change, because she shows up back at the house with her hair dyed black (the kids may hate it, but I think she looks great). Unfortunately, a new 'do probably won't solve all her problems, which now include blurting out disturbing things like, "Why don't you go in there and rape her?"
Peggy on top. I hate that Peggy isn't at SCDP anymore, but I'm glad she gets a lot of screen time this week. I love seeing her in a position of power, talking to her employees like Don once talked to her. She seems to be doing great at her new job, even though she has to put out a couple fires at work. Also awesome: she and Stan still gab to each other on the phone like BFFs.
Roger's mother dies. Roger hardly seems rattled when his secretary informs him that his 91-year-old mother has died. However, the funeral manages to shake him up when Don, drunk and possibly moved by a speech about how much Roger's mother loved her son, vomits in a corner. Roger then unloads on his ex-wife's new husband, screaming at him to get out and Freudian slipping, "This is my funeral!" It could be the therapy, but something cracks, and Roger breaks down in grief at the office.
Don's having an affair. Given what we know about Don Draper, his infidelity shouldn't be a shocker, but it still breaks my heart to discover that he's cheating on Megan. And so close to home: his new mistress is Sylvia (Linda Cardellini), a neighbor who's friends with Megan. Surely there's something to Don's choice of her, since she's the wife of Dr. Rosen, on whom Don is particularly fixated since he regularly holds the lives of other people in his hands.
What did you think of the season premiere?