Mad Men "Zou Bisou Bisou"
Music the Morning After: Mad Men's "Zou Bisou Bisou"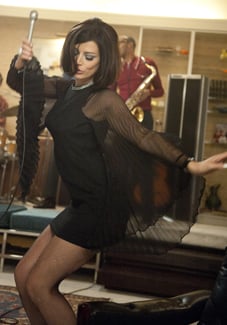 The most memorable moment from this week's Mad Men season premiere has got to be the little French song-and-dance from Don's nubile young wife Megan, who sings "Zou Bisou Bisou." The '60s pop hit was sung by Gillian Hills in 1961, but if you have Megan's version still stuck in your head today, great news: you can buy it on iTunes.
Unless you're Glee, it's rare that a TV show releases a track from one of its characters, but Mad Men always finds ways to surprise us. If you want to watch the scene again (and memorize Megan's moves for your next party), check it out after the jump.