Made in Jersey Star Janet Montgomery Is British
How Made in Jersey's British Star Got Her Jersey Accent
CBS has a new legal drama coming to its Fall lineup, and it's rooted in the Garden State. Made in Jersey centers around a young, ballsy female lawyer played by Janet Montgomery, but despite Montgomery's convincing performance as a jersey girl on the show, the actress actually hails from England. At the TCA panel, Montgomery spilled about how she cultivated her accent, while costar Kyle MacLachlan chimed in about his character.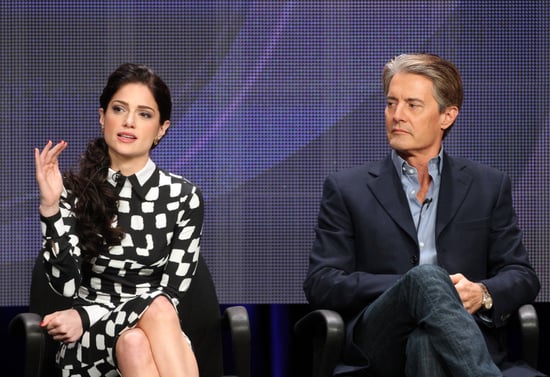 Montgomery said she had never used a New Jersey accent before being cast as Martina, the lawyer who goes from her working class neighborhood to a large firm in Manhattan, so she studied up on other actors who are from the state. Montgomery said she borrowed the most from Mira Sorvino, and that she also used the movie Working Girl for the "working class, underdog, good-girl" tone.
Executive producer Kevin Falls was a big advocate for Montgomery, saying that he hoped this was the last TCA in which the actress wasn't a household name. As for why they wanted to cast her instead of an American actress, Falls said that Montgomery "delivered this character like she had lived there all her life . . . Janet made us forget that she was English."
Kyle MacLachlan plays Donovan Stark, a partner in the firm where Martina works, and he said that his character finds "a kindred spirit" in Martina, and that they have a spark. Still, reporters were curious about MacLachlan's earlier roles, with one journalist asking whether he gets recognized more for his work on Sex and the City or Twin Peaks. "It depends on the gender of the person," he joked.