Madonna Golden Globes Press Room Quotes
Madonna Talks Underwear, Her "Bum," and Her New Album's "Happy" Sound After Globes Win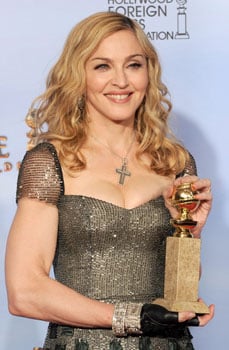 Madonna took home the Golden Globe for her song "Masterpiece" from her movie W.E. at this evening's big show. She stepped backstage after her acceptance speech and was in great spirits, joking about everything from how she tones her famous behind to what she makes sure not to travel without. While talking about the sound of her upcoming album, Madonna showed off a few dance steps. Check out the quotes:
On her current fitness regime: "I'm not really doing Pilates anymore. I'm just dancing. You know, dance aerobics. I kind of do that, but the best thing for your bum is dancing."
On her first post-win call:"Well I'm probably not going to call anybody, I'm going back to my seat, but my daughter will be."
On her Globes dress: "I love it because I feel like I'm wearing chain mail and I'm ready to go to battle."
On beating Elton John: "I hope he speaks to me for the next couple of years. He's known to get mad at me. He's brilliant and I adore him. He'll win another award, so I don't feel bad."
On what she never travels without: "My passport, a pair of tweezers."
Favorite things in her closet: "I'd say my fishnets, but I'm not wearing them tonight. My Victoria's Secret underpants."
On all her upcoming projects: "Well it took me three years to make this movie, and while I was making the movie all these things were pushing the train behind me saying, "What about me?" I do have a recording career to pay attention to. And I do have to pay my rent. Making a record was always on my mind, and then I was asked to do the Super Bowl, which is an honor but takes a lot of planning. Then it's a tour."
On the sound of her new record: "Well I did a good majority of the record with Martin Solveig, who is a DJ/producer. His sound is really fresh. His music is happy, it puts a smile on your face and I hope my record does too. Also, it will be introspective and thoughtful. It's a good combination of the light and the dark."
On what inspires her: "Life inspires me."