Mae Whitman Interview For Perks of Being a Wallflower
Mae Whitman Talks About Shifting Between TV and Movies For Perks of Being a Wallflower
Mae Whitman plays supporting character Mary Elizabeth in The Perks of Being a Wallflower, and when I visited the set of the movie last Summer, I chatted with her along with a few other reporters. Whitman talked about what she likes so much about her alternative-culture-loving character, who runs a fanzine — which led Whitman to talk about her own personal pop culture obsession: Harry Potter. Since she stars in Perks with Harry Potter franchise star Emma Watson, Whitman had some cute things to say about working with her, and how life on a movie set is different than her usual routine in the TV show Parenthood.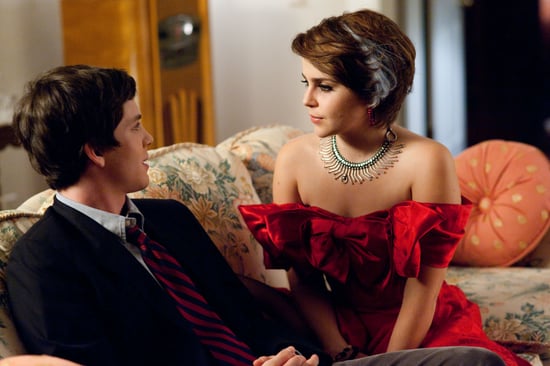 Why did you want to play Mary Elizabeth?
MW: I wanted to play Mary Elizabeth because to me, in every aspect, she's one of the most interesting characters. In the book [and] the script, she has an incredible story arc, and I feel like she's one of the more tragic — but also in the end, perfectly well-off — characters. I think she really goes through a change of finding herself and being OK with certain things. She has so many extremes, and I think she really is able to find a balance through going through a relationship with Charlie, and then being so hurt, and having to come into being OK with who she is on her own, and finding somebody that actually cares about her, and not just letting her flood gates open on somebody that's not into her. And besides that, she definitely has the coolest wardrobe: she has the coolest makeup. I mean, amazing stuff. You know, I think they all kind of got really excited with my character 'cause they could do whatever they wanted. [Laughs] So, we have some really interesting looks.
In the book, Mary Elizabeth makes a fanzine. If you were to make a fanzine, what would it be about?
MW: Is it taboo to say Harry Potter? That's definitely one of the things I'm the biggest fan of. Or like, Lord of the Rings or comic books. Yeah, I guess it would be either that or food. Just food in general. The two things I love the most are Harry Potter and food.
So did you freak out then, when you found out Emma Watson was your costar?
MW: Yeah. I was so excited. I've read every [Harry Potter] book, like gotten them at midnight when they came out, and dressed up. I mean, it was definitely a big deal. I slowly release tidbits to her about how excited I am, but I don't want to let it all come at once. I think she'd get a restraining order or something.
To read the rest of our interview with Whitman, just keep reading.
Had you read The Perks of Being a Wallflower before you were cast?
MW: I did. I read the book a while ago — a few years ago and then, actually, some friends that are on Parenthood with me — Miles [Heizer] and Sarah [Ramos] — it's their favorite book, too, so when it started coming back in periphery, I reread it, and we all just would talk about it every day, and it's such a seriously special, meaningful book. Like, it means something to everybody that's read it, so to be a part of something like that is really special. And because the people who tell you that they appreciate it really mean it from a really visceral place.
What do you think it is about the book that resonates so much with people?
MW: You know, just speaking for my own self, I think the book really captured the actual sense of being — feeling that age. There's a very specific feeling of emotional sensitivity and sort of, you're just very aware and open to your surroundings at that age, and everything really affects you a lot. And I think it's a really specific, specific feeling, and as I've gotten older — I'm 23 now — and just seeing my perception shift from that to where I am now is just — I think it's a really important thing to have nailed down in such an honest way. So I think a lot of people really appreciate it being a coming-of-age story that's actually told in a really genuine, genuine way.
What's it been like going from filming Parenthood to filming this movie?
MW: It's a weird transition because movies are always different from TV, but at least on a TV show, everything is, you know, normal. You have a pattern: we don't work as long hours, and we do a lot of improv-ing, and your wardrobe's all set. You just have a system, you know — a parking place, all that stuff, which is very comfortable. And then you come [to the movie set], and it's longer hours, and you gotta do all these fittings, and you come in, and you're waiting, and blah-blah-blah, and you're working so late. On Parenthood, if I work past 9 o'clock at night, I'm having a tantrum, and then I come here, and it's like, my call-time is 9 o'clock at night. So it's definitely different, but it's really fun because it kind of shakes up your perception of being an actor, you know?
Do you have a preference?
MW: The thing is, the experience [on the movie] is so different that I really love them both. I mean, the convenience — sort of the inconvenience, actually — of it makes it fun and special. I really feel like an experience that you're all going through together when it's 4 in the morning, and you're slogging through, and the only people you have to help you are like the rest of your cast [who] become your good friends. So it's actually a really meaningful bonding experience.