Magic Mike Movie Review
Magic Mike: Less Talking, More Stripping
I wish I could say that I wanted to see Magic Mike because I was hoping the Steven Soderbergh film would show me the serious side of male stripping, that I wanted the venerable director of films like Erin Brockovich and Traffic to show me how very challenging it is to make exotic dancing a career. But who are we kidding? I wanted to see Magic Mike for its simple hook: a cast of very good-looking men in minimal clothing. Channing Tatum, Joe Manganiello, and Matthew McConaughey play Tampa's hottest strippers, and they take it all off while exposing us to their lifestyle and integrating a new dancer, played by Alex Pettyfer. The movie is a lot of scandalous fun — but only when the guys are on stage.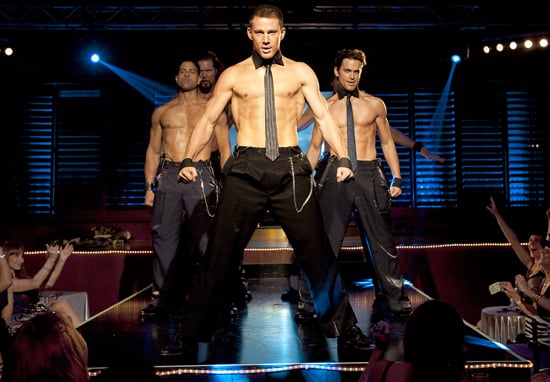 We're introduced to the world of male stripping through Mike (Tatum), and though "Magic Mike" (as he's known on stage) is a star at the club Xquisite, he has bigger aspirations than shaking his moneymaker. He wants to start a furniture business, and he has a heart under all those muscles, which we see via two new relationships: a friendship with Adam (Pettyfer) and a flirtation with Adam's sister, Brooke (Cody Horn). Adam loves Xquisite's spotlight a bit too much, and he soon develops a few bad habits, but Soderbergh's attempt to show us the seedy side of the dancing life is undeveloped and uneven. The dark undertones of the plot feel out of place and, worse, boring, especially compared to the movie's jaw-dropping stripping scenes. To find out what else I thought, just keep reading.
Tatum does the heavy lifting as Xquisite's lead stripper, not just in the sense that he's the main character, but because he has the best, most impressive moves. You may have seen him popping and locking on screen before in movies like Step Up, but you've never seen him move like this (or you know, wearing so little). Mike embraces his night job, passionately trying to recruit people to come see the show and experimenting with new routines. The charming Tatum is self-effacing and funny in the role, making Mike more than just a sexy set of abs.
To that point, as dimensional as Mike is, he's the only one. No other characters are explored to the same extent, and the colorful cast of beefcakes are relegated to that description only; Manganiello, Bomer, and the other strippers rarely utter a word. You expect some development from Pettyfer's character, since the movie is, after all, about his ascent into the world of exotic dancing. Alas, it never happens, aside from accruing skills like strip acting, looking great in a thong, and taking drugs.
Not that the characters aren't entertaining, and McConaughey is the movie's other MVP. He's so natural in the role of a strip club owner and emcee that it feels like he's hardly working to tap into the persona of Dallas. As a less-clothed, more oiled-up version of himself, you can't take your eyes off of him (for better or worse).
It's a pity that the movie takes itself so seriously outside of the club. It's too melodramatic and the clichés drag the movie down from its highs. But I'll give credit where credit is due: the performances are fun and well-done. When we're inside Xquisite, it is indeed magic.