Magic Mike Trailer
Magic Mike Trailer: Channing Tatum Is a Stripper With Big Dreams
If you fell in love with Channing Tatum's sweet dance moves in Step Up, then you're going to love the trailer for Magic Mike. Not only does Tatum showcase his skills once again, but this time he also takes his clothes off. Tatum plays the titular "Magic" Mike, a stripper with hoards of fans and enough $1 bills to make it rain on a regular basis. Though he's good-natured about his line of work, Mike dreams of getting out of the exotic-dancing game and into . . . making furniture.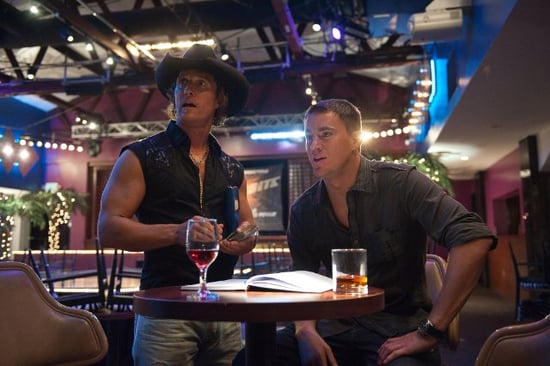 Yes, the premise is silly, but that's part of the appeal of the Steven Soderbergh film: it doesn't take itself too seriously. Instead of seeing a Chippendales-style line of pretty boys (Alex Pettyfer, Joe Manganiello, and Matt Bomer also star), the preview focuses more on Mike's romance with his friend's sister (Cody Horn). My only issue is that this carefree, Summer party movie feels a bit like a step back for Tatum, who's already had two No. 1 movies this year. Then again, a little mindless, shirtless fun never hurt anyone.
The film hits theaters on June 29, but watch the preview when you read more.