Man of Steel Review
Man of Steel: Even Henry Cavill's Blue Steel Can't Save This Movie
In a time where superhero movies not only dominate the box office, but also earn rave reviews for their quality, you'd think Superman would be able to join the ranks of Spider-Man and the Avengers. Instead, director Zack Snyder delivers a heavy and underwhelming snooze-fest with Man of Steel. Starring Henry Cavill as the title superhero, Amy Adams as Lois Lane, and Michael Shannon as villain General Zod, the movie falls flat on a number of levels, the most egregious being that it's just plain boring. Man of Steel sets up what could be a great series of films, but this first chapter just feels like a prologue — an extended, bloated, confusing prologue filled with run-of-the-mill action and long-winded explanations that would confuse even savvy comic book fans. But hey, at least Cavill is gorgeous.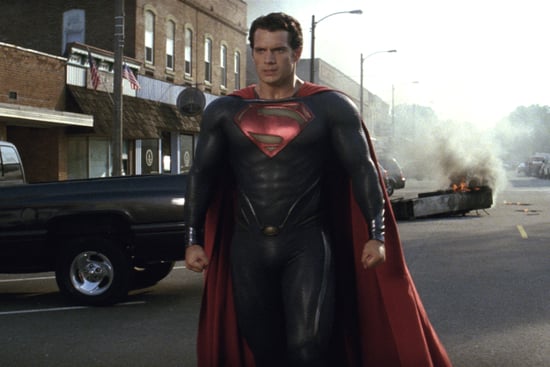 This is Cavill's first time as a leading man in a big-budget film, but you wouldn't know it by his star-quality magnetism. The chiseled actor is impossible not to stare at, especially when he fills out that suit. Sadly, he doesn't don it until about halfway through the movie. The first portion is dedicated to a little history lesson: Kal-El (aka Clark Kent, aka Superman)'s mother and father (Russell Crowe) beam him out into the universe as their planet is facing devastation. First attacked by a rogue army general (Shannon) staging a coup, Krypton then explodes after exhausting its natural resources. The movie flashes forward to a grown Clark attempting to uncover the truth of his identity, and back again to his years as a confused teen being raised by kindly farming couple Jonathan and Martha Kent (Kevin Costner and Diane Lane). The timeline is a bit of a head-scratcher, but it's not nearly as confusing as the film's meandering plot. To find out more, just keep reading.
As a would-be Summer blockbuster, Man of Steel is expected to bring the action, but there's simply too much of it here. There's little character development, no levity or laughs, and the romantic subplot with Lois is dead in the water — to say that Cavill and Adams's chemistry needs work is an understatement. Instead, we get lots of action and destruction broken up by long, serious monologues about Krypton's historical artifacts and Clark's responsibilities to the human race. Unless you're a Superman superfan, most of this story isn't compelling.
There's also a distinct lack of iconic Superman elements in the movie. Most pop-culture fans know that Clark Kent as a roving reporter for The Daily Planet, but guess what? We won't get to see that side of his life until the sequel, reportedly already in the works. They barely identify the city as Metropolis, and Smallville is shown but never mentioned. It's actually bizarre how far Snyder goes out of his way to ignore these series trademarks, even avoiding having characters utter "Superman" until totally necessary.
Superman is an epic hero, but with its anticlimactic plot and lack of memorable moments, Man of Steel is far from an epic movie. Forget Summer blockbuster — this is a Summer bummer.