Man Up! Pilot Review
Pilot Scoop: Man Up!
There are ton of new shows fighting for your attention this Fall, and Man Up! enters the mix tonight as one of ABC's comedy contenders. Mather Zickel plays Will, one third of a group of lifelong guy friends, which also includes Dan Fogler and Christopher Moynihan (who is also the series' writer and exec. producer). The guys struggle to define their masculinity in the face of their romantic relationships, jobs, and friendship.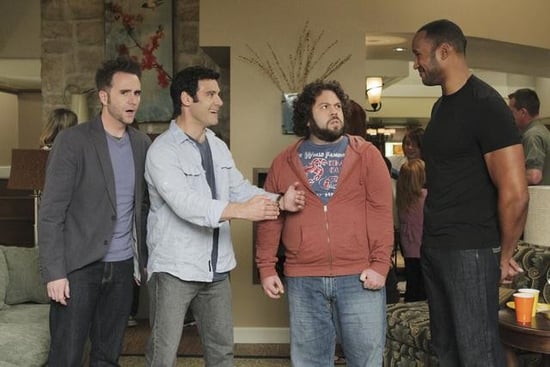 Where it works: The cast has some funny members, like comedian Fogler, Jake Johnson (who plays Will's son), and Henry Simmons, who plays an intimating but friendly beefcake.
Where it doesn't: The characters are a little uninspired. What's even worse is they feel like clones of those on other shows, like Will's wife Theresa (Teri Polo), who is a carbon copy of Modern Family's Claire. It's even eerier that Polo and her onscreen husband Zickel are so physically similar to Claire and Phil.
You might like this show if: You wish Modern Family had a bigger focus on the lives of the adult male characters.
When it's on: Tuesdays at 8:30 p.m. on ABC.
To see photos and a video preview of Man Up!, just
.
Photos copyright 2011 ABC, Inc.