Margin Call, Like Crazy Picked Up at Sundance
What's Buzzing at Sundance: Get the Scoop on the Festival's Hottest Films
Greetings from Park City! Molly and I have been having a blast taking in tons of films (more details on those soon!), interviewing the stars, and then watching them let loose down on Main Street (here's some proof of James Franco's shenanigans). Whether you're a fellow attendee here in Utah or are just following along from the warm comforts of home, here's the latest buzz on what's been happening during the festival's first weekend.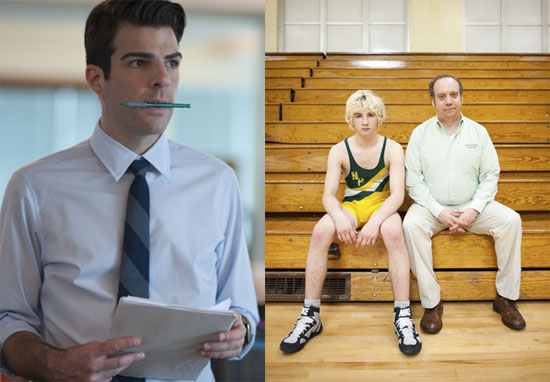 I had a feeling that Margin Call, a thriller about the economic collapse, was going to be a hot commodity from the moment we got closed out of the overcrowded screening on Saturday morning. The good news is that we'll still be able to catch it in theaters, now that it's been snatched up by Lionsgate/Roadside Attractions. The film's star-studded cast includes Demi Moore, Zachary Quinto, Jeremy Irons, and Paul Bettany.
Speaking of hot tickets, Paul Rudd's My Idiot Brother premiered on Saturday night. We saw the film this morning, so stay tuned for my first thoughts (spoiler alert: it's just as funny and sweet as you're probably expecting). Though there hasn't been an official deal inked yet, it's safe to say that this one will be snatched up very soon.
Another film that's garnering buzz for its positive reviews and studio interest is Like Crazy. The romantic drama, which stars Anton Yelchin, Jennifer Lawrence, and Felicity Jones is already drawing comparisons to last year's Blue Valentine and Paramount has reportedly closed a deal to bring it to wide release.
More on what films are hot (and which aren't) when you read more.
Lots more to come from the festival, so be sure to stay tuned to Pop and Buzz and stay in the loop by following my Twitter updates!