Matt Damon and Michael Douglas Entertainment Weekly Cover
Matt Damon and Michael Douglas Go All Out For EW
If the first photo of Michael Douglas as Liberace and Matt Damon as his lover in Behind the Candelabra wasn't enough for you, then you're in luck! The pair cover this week's Entertainment Weekly, complete with feathered hair, blingin' rings, and lip color. In the issue, the guys talk about their HBO movie (directed by Steven Soderbergh), their crazy costumes, and awkward sex scenes. Here are highlights: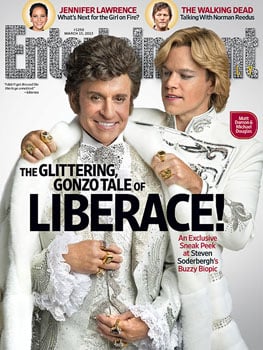 Damon on what he went through for the role: Every Sunday night, this girl would come to my house and I would stand in my garage and I would hike my boxer briefs up into the crack of my ass, and she would give me a spray tan. We've [Damon and his wife, Luciana] been through three childbirths, we've been in the trenches, there are no secrets. But I really wish she didn't see that. That's too much.
Damon on sex scenes: The scene where I'm behind him and going at him, we did that in one take. We do it. Cut. There's a long pause. And then you just hear Steven go, "Well… I have no notes."
The movie airs on May 26, and you can get a better look at the cover when you read more.