Max Greenfield Interview For New Girl Season Two
7 Things You Should Know About New Girl's Max Greenfield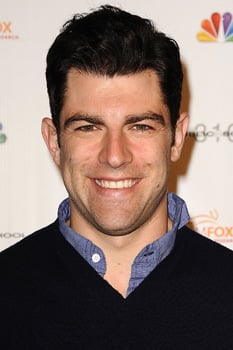 I recently hopped on a conference call with New Girl's Max Greenfield, and I'll be honest: he's simply wonderful. The funnyman from Fox's hit comedy was recently nominated for a Golden Globe for playing Schmidt, the same role that got him an Emmy nod last year. He's been busy at work on the show, but he teased a little bit about an exciting upcoming project and let us in on which TV series he carves out time to watch. Here are some snippets from Greenfield's chat that made me laugh, sigh, and love the guy even more. Check out the interview before New Girl returns tonight!
He may have been an exotic dancer.
When asked where he learned the swingin' dance moves featured on the show, Greenfield joked, "I was — I don't want to say a stripper because that's not the right word — an exotic dancer for quite some time. It's not only

Channing Tatum

's story, but it's mine as well. It's a shame that he was so much more famous than I was at the time the story came out. Now I don't want to copy him, though."
He's emotionally invested in Schmidt and

Cece

's romance.
The show's resident on-again-off-again couple may be off again at the moment, but Greenfield is holding out hope for them: "There's always a chance, and personally I'd like to see them back together. You try to play the character and make this as personal as possible, and at this point, Schmidt is working so hard to get back with her, I personally just want him to win already."
To find out what else Greenfield divulged about himself, just read more.
He slept through his Golden Globe nomination.
Greenfield is grateful for his nod, but it sounds like he wasn't quite prepared for it: "It feels wonderful [to be nominated], especially in such an odd category where they have people from movies and miniseries and drama. All of a sudden, they're like, the nominees are Ed Harris and Schmidt. To hear that felt really nice. It always feels nice to be recognized for the work you do. As far as where I was, it was 5 in the morning, and I was very much asleep."
He's headed to the big screen.
Come 2014, Greenfield is costarring in They Came Together, a David Wain film featuring quite a few comedy heavyweights, which he's excited about. "It stars Amy Poehler and Paul Rudd, who are the biggest dream to work with. I would find myself in scenes with them, just watching. They just are two of the funniest people I've ever worked with. It was a real blast."
He watches your favorite show.
Greenfield may spend a lot of time starring on TV, but like most Americans, he watches it, too. When asked what's on his DVR, the actor confessed, "We finished Homeland."
But he's more concerned about keeping up with the Oscars.
If you think you're ill-equipped for award season, imagine the pressure of attending some of the award shows. "I've been trying to catch up on all the Academy movies. I can't go into award season not knowing what these films are. We've watched a lot of them, so we're deep in. I have to see Lincoln. I want to watch Amour; I know it's going to be devastating, but I got to get in there."
Sometimes he's the one who should be putting a dollar in the Douchebag Jar.
Schmidt is constantly throwing money in the loft's jar, but Greenfield was asked whether he would need to contribute to one in real life. "Oh, sure, plenty of times. It's usually just dumb things that my wife will be like, 'What's wrong with you?' I saw some guy driving around in his Porsche, and his Marlboro was billowing out of his car. Any time you can look at a guy and go, 'We get it,' that's the definition of a douche."