This Means War DVD
What to Rent: New DVDs This Week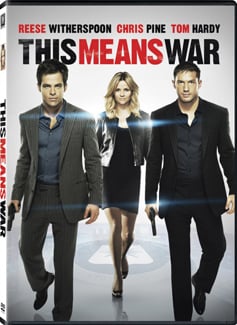 In This Means War Reese Witherspoon plays a woman tasked with a tough challenge when she starts dating two guys (Tom Hardy and Chris Pine) at once, who just so happen to be secret agents and best friends. Her choice becomes harder as the super spies pull out all the stops to win her heart, including some hilarious hijinks meant to sabotage the other's efforts. It may be a corny premise, but it's easy to fall for both leading men and the script keeps it light and funny. Extras include commentary by Director McG, deleted scenes, and alternate endings.
25%
In the Edwardian era, a young lawyer (Daniel Radcliffe) travels to a small town to manage the affairs of a recently deceased local. While he is there, he finds the real case is a string of child suicides in the area. Though he still has many demons of his own, he attempts to investigate as more children die at their own hands. Locals alert him of the legend of the Woman in Black, and before long, he has his own run-ins with the ghost, who is none too pleased to have a man encroaching upon her space. DVD extras include commentaries and behind-the-scenes and making-of featurettes.

65%
One more release when you
.
Cuba Gooding Jr. and Terrence Howard lead the cast in this World War II-era flick about the role of African American pilots, produced by George Lucas. Despite racial segregation, the Pentagon has no choice but to deploy the number of African American airmen enlisted for the war. Though they are initially outcasts, the squadron soon wins the respect of the entire air force with their dedication and skills in the air. Extras include "Double Victory: The Tuskegee Airman at War" mini-documentary and featurettes on the director and the cast.
36%