This Means War Movie Review
This Means War: Survival of the Hottest
You don't always fall for the leading man of a romantic comedy, so This Means War provides a doubly pleasant surprise, because you fall for two. Tom Hardy and Chris Pine play Tuck and FDR, best friends who work together as covert agents in the CIA. When they coincidentally start dating the same girl, Lauren (Reese Witherspoon), they agree to have a fair fight for her affections. But as their feelings intensify, their gentlemanly intentions fall away and they both employ their spy resources for sabotage. It's a silly premise, but the combination of the two very charming love interests and a funny script make it a light, entertaining escape.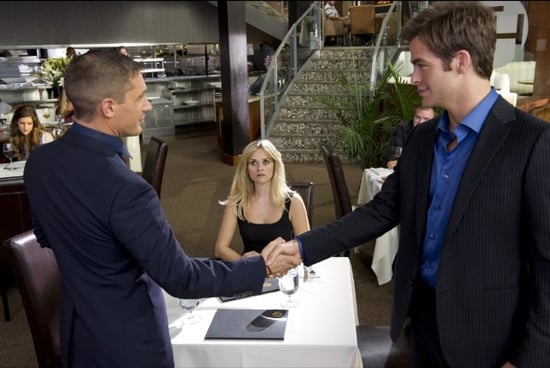 This Means War isn't all man candy; Witherspoon is at her most adorable as an everygirl who has just enough glamour and sophistication to be the heartbreaker in the middle of two extremely eligible guys. The casting of the three leads gets this movie off on the right foot, and they each bring a surprising amount of comedy to the film. To see why else I enjoyed This Means War, just keep reading.
It's easy to understand how Lauren is caught between FDR and Tuck — they're both well-dressed, sexy, and they employ their wits as much as their government tools in their battle for her. It's fun to see Tuck and FDR spar verbally, but their chemistry isn't just evident when they're fighting. Their relationship is given as much significance as their romances, and the friendship is often more compelling. The fact that Hardy and Pine are rarely cast as romantic leads is also impressive since they both slip into the roles with ease.
This Means War doesn't shy away from raunchy humor, which mostly comes from Chelsea Handler as Lauren's best friend. Handler isn't straying far from her real-life persona as she sarcastically laments Lauren's very desirable situation. It feels like she's the self-aware voice of a more cynical audience, and it helps ground the movie when the plot starts to feel unrealistic.
The movie's not without its shortcomings, though; for instance, the subplot with an evil German villain feels jammed in to flesh out the CIA angle. It's not necessary, because the action sequences and FDR and Tuck's funny usage of spy skills to do things like break into Lauren's apartment for recon are enough.
Though it's often tough to marry the genres of action movie with romantic comedy, This Means War finds a nice groove. There's plenty of girlie love stuff, but the humor and exciting sequences keep it from drowning in cheese.