Melissa Rosenberg Interview on Breaking Dawn Part 2
Twilight Screenwriter Melissa Rosenberg on Spinoff Rumors and Breaking Dawn's "Breathtaking" Finale
Melissa Rosenberg had already found success writing for TV and film before she signed on for the Twilight series, but her work on the franchise's first four films propelled her to become the highest-grossing female screenwriter of all time. We caught up with Melissa by phone after Breaking Dawn Part 2's big premiere this week to ask her about the rumors of a potential spinoff movie and to weigh in on the twist ending in BD2 that author Stephenie Meyer has alluded to in recent interviews. Read on for more from Melissa about how Robert Pattinson and Kristen Stewart influenced her take on Edward and Bella and for her reaction to the final Twilight film's "breathtaking" end sequence.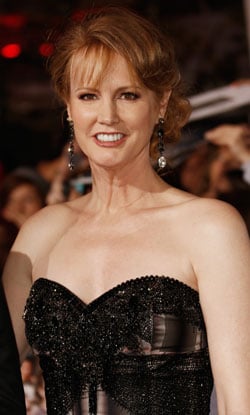 How was the premiere?
Melissa Rosenberg: Amazing! It was definitely the best premiere of the five. We were just really committed to having a good time since it was the last one. It's really for me, being with Stephenie, like, 'What are we going to work on next together?' Or just like, 'I'm gonna miss this.' And that's what all the producers and, you know, Bill [Condon, director] and everybody, yeah, so kind of looking forward now to what can we do next?
So you think you'll collaborate in the future?
MR: Oh, definitely. I mean, I definitely would work with Summit again. That's a great studio. Would I do any more Twilights? It's entirely up to Stephenie whether she wants to pursue that at all.
I was hearing rumors there might be a spinoff — a wolf pack spinoff or something along those lines. Have you heard anything about that?
MR: You know, anything is possible, but . . . it's entirely up to Stephenie. She has ownership on all levels of the Twilight franchise, and she will either move forward — I mean, there's any number of characters you could follow in that movie. You could take the small wolf, the third wolf from the right, and you would have a complex, intense background and backstory, because she's developed his world.
Did you see yourself catering to Robert Pattinson's and Kristen Stewart's strengths or even consulting with them on anything over time, since they've lived in these characters for so long?
MR: Well, definitely. Already in the first Twilight, before they were cast, and then once they were cast and I had the chance to see who they were, and their pacing, and their strengths, and their impact on the character. I absolutely wrote with them in mind. They became Bella and Edward for me, and they would consult.
Read the rest of Melissa's interview after the jump.
Was it kind of hard to envision Rob's and Kristen's characters as parents in, kind of, this transition that they've gone through over the years?
MR: You know, I feel it was a great deal of fun. Particularly having Bella become a vampire, and being a vampire, and kicking ass, and really embracing her own special, unique power. And it just allowed for so much more humor, and it drove things. It sort of became less about this teen romance and more about the story, and it was much more of an adult theme. It really intrigued me all the more.
Was the premiere the first time that you'd seen the final polished finished product, or when did you first see the movie?
MR: Last night. Well, I'd seen a few early cuts of it, but it was before the special effects had been put in, and I was just thrilled. God, I thought they did such a great job. They did a tremendous job.
How much of it is a surprise to you after all the special effects were put in?
MR: Well, it's all a surprise, especially that action sequence at the end. I wrote a draft of it, just some beginning ideas for choreographing what it would be, like who dies when, and how. So then it goes to Bill, and he and I work on it. He works on it with the stunt coordinator, blocking it, and then he comes back and changes that. So I'm then following his math, and then it's just back and forth back and forth until it's on the page. Exactly what it's going to be on the stage is on the page.
Was there a scene that really stuck with you or moved you more than you expected?
MR: Well, the entire finale. I'd seen it before without the CGI effects and was worried. . . . So seeing it and seeing it with that audience, it was so successful; it was, so, you know, Bill and the producers did an incredible job with it. I mean, I was completely taken along for that ride. Even people who had read the script with me were like, "Oh, my god," so it was, like, kind of breathtaking.
Can you give us any hints about what the twist might be or how closely Breaking Dawn Part 2 cleaves to the book?
MR: Well, it clings very closely to the book. I don't think there's anything in there that's not aptly suggested by the book, which is very interesting. I mean, the book is all very much Bella's point of view, so, for instance, when Jacob comes to Bella and says, "I just told your dad I was a werewolf," I get to actually go see that. Bella only meets their stories once they're there, and we get to actually go with the people who are finding them, and meeting them in their environment. So it's a lot of fun for me, and actually the final sequence at the end . . . I get to do a little bit of inventing there.
You have the impressive distinction of being the highest-grossing solo female screenwriter of all time. Being a part of this industry for years, you've seen opportunities maybe change for women. What advice would you give younger women who'd want to break into screenwriting?
MR: What I've seen is that studios are beginning to recognize that a female audience can drive a major box office [movie] to tentpole success. Prior to that, if you want a major tentpole movie, it must be geared toward 13-year-old boys. Well, the Twilight movies proved otherwise. I'm also doing another franchise for Paramount called Earthseed with a female lead. So that, hopefully, will also open doors for female screenwriters. And hopefully they now have me as a reference. Here was a woman who actually succeeded in having a tentpole movie, so, wow, maybe this other girl can. There's sort of this very biased attitude toward women, that women should only write Nicholas Sparks movies, you know? Rom-coms. And hopefully that begins to change, but, you know, I've been hoping for that for a while. We're 50 percent of the population, but [female writers] represent 24 percent of the industry, and 13 perfect directors are in the industry. That's not good.
And you're working on another television series, too, right?
MR: Yes, for ABC, called Red Widow. It'll be on your screen sometime around Spring, early next year. We have an eight-episode order for the Spring, and we're shooting our eighth episode right now, so I'm actually in the airport on my way up for our last three days of shooting. It's going to be a really compelling series.