Melissa Rycroft Talks Ali's Big Decision, Giving Birth on TV and Bachelor Pad
Melissa Rycroft Talks Ali's Big Decision, Giving Birth on TV and Bachelor Pad
Melissa Rycroft stopped by the TCA in LA yesterday to talk about Bachelor Pad where she was glowing and happy to gush about her newly announced pregnancy! Melissa also dished about who she thinks Ali will pick tonight and the advice she has for their relationship going forward. She joked about her husband's love of being on camera, though it's going to take some convincing for her put her family — or her baby's birth — on reality TV. Here are quotes: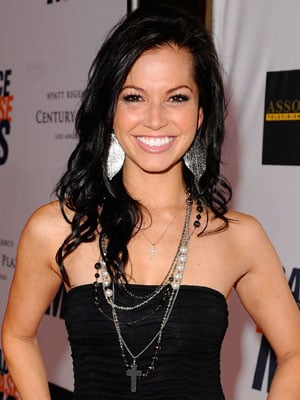 Congratulations on the pregnancy, are you excited?
Melissa Rycroft: Very excited! Life has thrown some curve balls this past year. [It was not planned] at all. We were going to enjoy being newlyweds . . . but life's been fun lately with lots of traveling and trips. Just he and I getting some quality time. Ideally, we were talking about waiting three to four years, but it came much quicker. So you just kind of change your path of life and take it in that new direction. [Newlywed life is] great. It's so much fun. It's every cliche that everyone talks about: rainbows and butterflies and unicorns. You've always got your best friend around. It's a comforting feeling. I love it.
Does the pregnancy affect Bachelor Pad?
MR: Thankfully, it doesn't affect the show at all. If we were planning this, we couldn't have planned it any better, timing around the schedule of it all. Bachelor Pad was shot this Summer and it will be again next Summer, which completely misses seeing me pregnant, having me pregnant, any of that. So time-wise it really worked out perfectly.
Do you have a favorite for Ali to pick tomorrow night?
MR: Well, either Chris or Roberto! I don't know. I think one of the best things about Bachelor is that whoever you want to win at the beginning is never the person that wins. To me honestly, Frank was my front-runner. They seemed like they had great chemistry and got along and he's out of the picture now. So there's Chris who I really like. He just seems like a sweet guy and his backstory really tugs at your heartstrings and you just want to see him happy. Then you've got Roberto, who she just can't seem to keep her hands off of. So I have no idea who she's going to pick. None.
To read the rest of Melissa's interview, just
.
What are we going to see on Bachelor Pad?
MR: What are you not going to see? When you take in all the elements — you've got a mixture of Big Brother and Survivor and our traditional Bachelor/Bachelorette that we know. It's more drama than you can really comprehend. You've got so many emotions flying around. From relationships being made, romantically or friend-wise, alliances being made, relationships being broken and competing against each other. Eventually contestants are having to vote off someone that they are romantically involved with or have an alliance with or a friend. We haven't had to see that before. The drama has definitely kicked into overdrive with this one.
How was the experience of filming the show after being on the other side?
MR: The show's a lot more fun from Chris's point of view. I got to enjoy it this time with him, standing in front of everybody. You tell the rules, and you take them on the dates, and you show them around, and you're in charge of the ceremonies. It's much less nerve-racking than being one of the contestants, lined up, completely unaware, with your heart pounding, like, am I going home?
Having gone through everything, is there any advice you would give Ali?
MR: I've never been on Ali's side of it, having the power to make that decision. If she does pick somebody and they do give the relationship a shot [my advice] is to give it a real shot and keep it private. I think one of the worst mistakes, and unfortunately I think we just saw this with Jake and Vienna, is that when something becomes so public so quickly you don't really know how to handle it. Everybody from the Bachelor/Bachelorette is plucked from obscurity and thrown into this world where all of a sudden you're on magazine covers. The best way to make your relationship work is to take it out of the spotlight and keep it private. If you want to pursue a public career, pursue the career publicly, just keep that part of your life private and I think you'll have a more successful relationship.
Do you think it is actually possible to find the one on the Bachelor/Bachelorette?
MR: I do. I don't think it's 100 percent. Obviously, we've seen that, but you do have the longest couple ever, Trista and Ryan and then most recently you have Jason and Molly. They weren't the final outcome from the show, but they met on the show and they have a marriage. One of my good friends, Jill, just had a really successful relationship [with Ed]. It didn't end in marriage, but that doesn't mean it's not a good relationship and not a successful relationship. So yes, I do think you can find love. Are you going to find your soulmate? Chances aren't as great, but it's happened. You never know.
Would you ever do another reality show, maybe with your family?
MR: You know, never say never. Right after Bachelor I said I'm never doing another reality show and then there I was on [Dancing With The Stars] and now here I am on [Bachelor Pad]. I have been so fortunate to get the opportunities that I've gotten that I'm not going to say no to anything at this point. If the right opportunity comes at the right time, I'm definitely going to say yes. Again, this is once in a lifetime and there's no negatives that can come out of it so you never know!
Are you going to find out if your baby is a boy or a girl? Do you have one you're hoping for?
MR: Absolutely! There are too many surprises that have happened this past year. I'm too organized not to know. I have to have the room completely done and the wardrobe done. I have to have names completely picked out. I can't have neutral everything and just have a couple names juggling depending on what it is. It will be a surprise regardless of whether you find out now or you find out at delivery. Of course we will be happy with any healthy baby, but I would love a little boy and Tye would love a little girl. So we'll see.
Would you deliver the baby on TV?
MR: Oh my gosh, I don't know about that! I worry enough about my husband having to watch, let alone everyone else. That would need some persuading.
How is Tye in front of cameras?
MR: Tye loves him some camera! It's so funny, when we're on the red carpet, he lights up like this little five-year-old boy in front of cameras. It's such a different world for us. We go home and we live in our little suburban neighborhood and live very normally, so when we come to LA and do my work stuff it's a very different world and he likes to play, so it's fun for him.