Meryl Streep Golden Globes Press Room Quotes 2012
Meryl Streep Inspires Herself in Golden Globe Press Room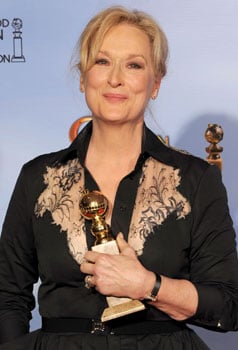 Meryl Streep stepped into the Golden Globes press room following her big win for The Iron Lady during this evening's show. On stage she couldn't give the speech she had planned since she forgot her glasses at the table, and while she almost gave it to the press room instead, she refrained. Instead, Meryl talked about women who inspire her, taking on the role of Margaret Thatcher, and what she's working on now. Check it out:
On what she would ask Margaret Thatcher: I would be interested in what she thinks about Europe right now and the debt crisis and whether her views about any of that have evolved. It's interesting how it's coming to the same path. It interests me.
On taking on the role: Coming into this I had a very reductive view of Margret Thatcher. I did what we all do to political leaders we don't agree with, turning them into something more than human and less than human at the same time. It was interesting to me to look at the human being behind all that, to look at the life that was so groundbreaking, in the winter of that life. To find a compassionate view of someone with whom I disagree.
On what inspires her: I've never really gotten to the bottom of me and all the contradictions and conundrum that I find in my own personality and I feel like I find myself, or parts of myself, and I find some understanding of being alive from the characters I play. I've probably only gravitated towards characters I do feel something of me in.
What is your passion project right now: I'm very interested in the stories of women, the untold stories, and I'm trying very hard to get congress to let us purchase land on the National Mall for the first women's museum. There are so many stories, I could go on for hours.