Michael Angarano of The Art of Getting By Interview
Michael Angarano on Working and Taking Punches in NYC, and the Blockbusters He Loves to Watch
Michael Angarano is one of the young cast members in The Art of Getting By, formerly known as Homework, which is out today. The film, a debut from writer and director Gavin Wiesen, is a coming-of-age story that features a love triangle. Angarano's Dustin, a twenty-something artist living in a Brooklyn loft, finds himself caught between Freddie Highmore's George and Emma Roberts's Sally, who are both about to graduate high school. We were able to chat with Angarano earlier this week about having a role in the film that was shot in his hometown of NYC, his own experiences as a teenager, and what blockbusters he's pumped to see this year. He even revealed that he got caught in a bar fight while shooting! He said: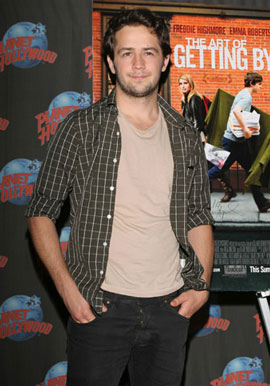 On what he was like in high school: "I was more of an athlete, I played soccer and I ran track, you know I did things like that. And so were my friends. But I was always working at the same time so I had the way of expressing myself. I felt like if I went to high school as a kid who wasn't an actor I feel like it would have been completely different. I probably would have discovered in high school theater and film."
About having his first teenage love: "I feel like we all have it at about the same age, and if we don't, we will. It's that moment where you realize that living for yourself is not what life's all about. It's where you have this moment, and it's a moment, that changes you. Because you realize that you love this person and you will live for them, or that you'll at least die for them. It's kind of that love that makes you realize that life isn't all about what's going on in your head, it's about what's going on around you, between these people. So it changes everything, it changes how you think and how you act and what you do things for, what motivates you."
On enjoying shenanigans while shooting in NYC: "I did! There were a lot of shenanigans for me. I only worked eight out of the 22 or 25 days. I got punched in the face while filming. I was at a bar and I got punched. It was bad because we had to film that Monday, and it was a Friday. There's a scene in the movie where I have a nice black eye that's covered up in makeup. . . I was trying to stop a fight. And I got punched. I was at this bar downtown, I don't even know where, all I know is there were these gold skulls lining the walls. And it seemed like some form of hell."
To read what big films Michael is looking forward to seeing this Summer and what his plans are, as well as how it was coming home to NYC, just
.
On his Summer plans: "I'm actually going to start a movie called The Brass Teapot with a girl named Juno Temple in July in upstate New York. . . And so I'm really excited about that, I'm going to spend most of the Summer in upstate New York."
On his Summer vacation plans: "This, in a weird way is kind of like my vacation. Well, I live in LA and when you work as an actor there are weeks or months at a time where you kind of just are able to live your life unbothered, really, because there's a lack of stuff going on or you have something planned, so it's not, so you can kind of do whatever you want. . . So that's where I'm at right now. I've been hanging out, not working. Last year I worked pretty consistently, and now those movies are finally coming out."
On shooting in NYC: "It was inexplicably, indescribably amazing. It was really really fun for me, because it was almost like I was discovering the city for the first time. It was almost like experiencing something in a whole different way that I was so familiar with. I had lived in the city — no well I didn't, I lived in Staten Island — but I spent my whole life in the city. I never got to walk around the city by myself. I was always in a car with my dad or I was working. So to be able to live in Greenwich Village and be able to walk to set and basically be in the same wardrobe. It was kind of like living the lifestyle of the character which made it a very seamless experience for me."
On the Summer movies he wants to see: "I saw Tree of Life and I saw Bridesmaids and all of those were really great. I live for Terrence Malick movies so Tree of Life blew me away. But I just saw Super 8, that was a fun experience. Just watching the Summer blockbusters I feel is discovering what it means to be an avid movie lover. Even if the movie isn't great in your eyes because you're critiquing it because there's a messed up frame or something you come to analyze as you be in movies. But I still very much enjoy watching the huge movies, because that's why you want to become an actor for movies like that, basically."