Michael C. Hall Celebrates His SAG Win in the Press Room
Michael C. Hall headed straight into the press room following his win for Best Actor at tonight's SAG Awards for his role in Dexter. It's been a good week for Michael after also taking home a prize at last Sunday's Golden Globes, and he answered a few questions about where he's storing his new statues and going public with his cancer fight. He said: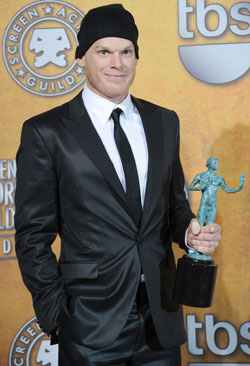 On the aftermath of announcing he has cancer: "A lot of people have reached out to me that I wouldn't have heard from otherwise. . . high school teachers, friends from college. I've actually spent a lot of this week responding to concerned, but ultimately encouraging e-mails."
On expecting Dexter's success: "I knew that our task was to try to sympathize a serial killer, that was a unique goal. I thought the show could develop some sort of cult following, but I didn't anticipate that following would be so broad, and it would attract as many fans as it had. . . I certainly didn't see bobble-heads or video games or any of that stuff."
On where he's storing his newly-won awards: "I put it in a little passageway between the bathroom and the guest bedroom, where we have such things. So I'll probably put this there."