Michael C Hall Quotes Golden Globes Press Room 2010-01-17 18:17:04
Michael C. Hall Is Happy, Honest, and Humble in Golden Globes Press Room
Michael C. Hall finally won the award for Best Actor in a TV Drama at tonight's Golden Globes in LA. Michael recently revealed that he is going through treatment for cancer, and we weren't sure whether he would attend tonight's ceremony. It was so great to see him out with his wife Jennifer Carpenter, and after John Lithgow won for his stint on Dexter, MCH had his moment as well. His acceptance speech brought tears to our eyes, and back in the press room he was full of personality. He says he's just as excited as all the viewers to see what happens next with the show. Here's some other highlights from the press room: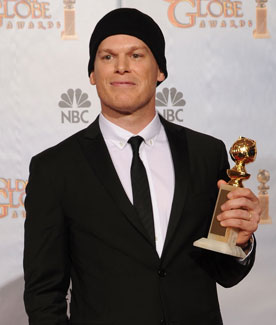 What made this season special: "Well John certainly turned the knob up to 11. He's such a phenomenal talent and has such an energy about him that affects everyone from the crew to the producers."
On his current battle with cancer: "Well, it's a personal matter and to be completely frank, I had every intention of keeping it quiet. Because the award shows were imminent, I figured I would make a statement. It was also nice to make a statement at the point in my treatment that I did, where I was able to assure people that I am really on the road to recovery. And it's nice to have a justifiable excuse for accessorizing."
On enjoying the night's excitement: "I like to think that I have a pretty good head on my shoulders and that I don't get too swept up, but I've never been less susceptible to getting swept up in a night like this considering the more down in the trenches kind of stuff I've been considering with the treatment. But, it's really been nice. It's really nice to see colleagues who know about it. Just to check in with them is really gratifying for me. I've very honored."