Michael Emerson and Jim Caviezel Talk About Person of Interest at Summer TCA
New CBS Thriller Person of Interest Draws Comparisons to Batman and Lost
Person of Interest, CBS's new thriller starring Michael Emerson and Jim Caviezel, presented its TCA panel in a unique way: via satellite from New York, since they were busy at work shooting the series. We still got to hear from cast members Emerson, Caviezel, and Taraji P. Henson as well as executive producer and writer Jonathan Nolan (yes, Christopher's brother) about their tense drama. In it, Emerson plays an inventor of a machine that can predict when someone is about to be the victim of a crime, and Caviezel is the former CIA agent with a dark past who's recruited to help use it. They discussed their characters and why the show isn't so sci-fi after all while fielding questions about similarities to the Batman films (which Nolan co-wrote) and Emerson's Lost legacy.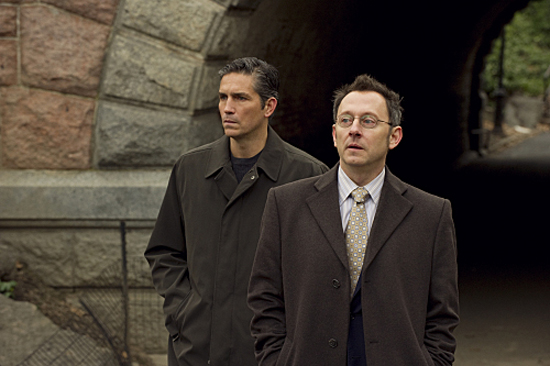 Though Michael Emerson will always be Ben Linus for some of us, the former Lost star is keen to move on, but he acknowledges that he may not be able to completely. "Part of me wants to leave behind everything I've ever done before," but he only knows "one way to rattle around scenes." Still, he seemed excited about his new character Finch on Person of Interest, describing him as a "shadowy tech billionaire" who has had some kind of transformative experience. Though Finch has dedicated himself to a

justice

mission, a physical handicap prevents him from intervening, which is why he needs to team up with someone who can — enter Caviezel's character.
Caviezel famously played Jesus in The Passion of the Christ. When it was brought up, the actor deadpanned that the film was "a little bit more controversial than I thought it would be." After he professed that he just keeps "movin' on," he talked about his mysterious character on Person of Interest. Though he's tough, Caviezel says he's "deep down, a guy who is searching for purpose." As to why Caviezel was desired for the series, Nolan said that he had seen the actor years earlier in The Thin Red Line and called his performance unbelievable. When Nolan heard Caviezel might be interested, Nolan was "amazed and thrilled" to work with him.
The Dark Knight and The Dark Knight Rises screenwriter Nolan could see similarities between Batman's world and Person of Interest because of the surveillance system in the first film. He said that he's fascinated by the idea of a "surveillance state," because of the question of "what happens when you start harnessing all that information." To Nolan, that makes his show "not science fiction" but "science fact."
Find out what else the Person of Interest cast talked about, just
.
Henson talked about why she was attracted to doing the show. It came down to the showrunners. Jonathan Nolan called her and said he wanted to write for her, which made it "a no-brainer" for her. Plus, there was the matter of Abrams's involvement. "JJ Abrams? You can't go wrong with that." As for her character, "caring police officer" Carter, Henson said "she is the heart" of the show.
Emerson talked about the extraordinary opportunity he was given on Lost, saying that it was supposed to be just another guest spot. The Emmy-winning actor said, "Every character actor has a dream that they become indispensable overnight and are asked to stay. . . . that's what happened on Lost." When asked how his life has changed post Lost, he admitted that "it's harder to hide."
Photo courtesy of CBS