Michelle Williams Interview For Oz: The Great and Powerful
Oz: The Great and Powerful Set Visit — Michelle Williams Talks Glinda and Chemistry With James Franco
Oz: The Great and Powerful is a prequel to the 1939 classic film The Wizard of Oz, so you can imagine how excited I was to visit the movie set with a handful of other reporters during filming last year. Not only were we able to set foot on the yellow brick road, but we also got a close look at Emerald City, the munchkins, and Glinda and Oz themselves, Michelle Williams and James Franco. We sat down with Williams to discuss her experience playing the good witch, being a role model for young girls, and making the jump from indie films to a potential blockbuster.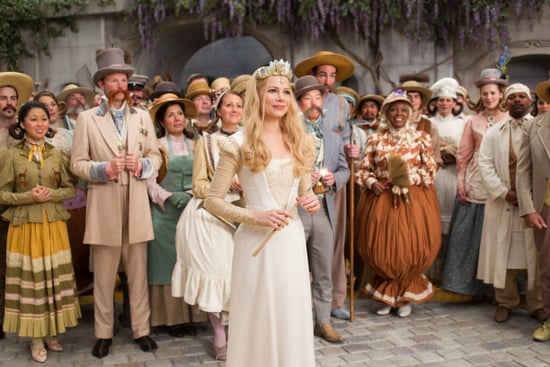 How great is it to step on set and literally be a fairy-tale figure for a bunch of kids?
Michelle Williams: It's the best. There's nothing better than making kids happy and seeing little girls' faces light up just at the sight of me.
Are you going to keep the tiara?
MW: I think that tiara has a price tag that I couldn't afford!
How much inspiration did you get from the original Glinda?
MW: We talked about her a lot. But Sam [Raimi] wanted to shy away from anything that referenced her too heavily. He wanted our very own Glinda. So there's little nods in a few costumes and a couple of lines. But she's a starting-off point. I just think of her as where Glinda started. When you meet Glinda in the original Wizard of Oz, she is omniscient, she has a kind of calm. But we like to think that that's where she wound up and this is kind of more where she began.
What's the chemistry like on set with you and James [Franco], and Mila [Kunis]? What's the relationship like?
MW: The chemistry? The sexual chemistry? [Laughs] Let me tell you. What's the chemistry like? It's a ball.
This film is quite different from your other recent movies, like Meek's Cutoff and Take This Waltz.
MW: There have been a lot of first times for me on this movie. The imaginary world. You see a big blue screen, but of course you won't see a big blue screen. You're going to see things flying, and you're going to see a sun setting, and you're going to see flowers turning. You're going to see things! But often you're not really able to have the real thing there when you do it. Most of the movies that I make tend to be smaller, and sort of more intimate. It's just a smaller crew. And I like things feeling like a family, so I've just tried to make this feel like a really big family. But it's a happy one because Sam's the dad, and it all comes down from there.
Does it make you excited about the possibility of doing more big-budget films, or are you itching to go back to the smaller stuff?
MW: I don't know. I guess because of Sam, it doesn't feel impersonal in any way. Which is always what my fear is of making bigger movies — that you don't get to know people. But it doesn't feel alienating in any way.
To see what else Williams had to say about her character and stepping out on the yellow brick road, just read more.
Have you floated yet in a ball?
MW: I've done some floating, I've done some flying.
Do you have a dual character? We know some of the people appear in the opening sequence, and then again in Oz.
MW: Yes, yes I do.
You are Oz's old childhood love who he regrets losing, and then you're reflected in the fantasy world?
MW: Yes, I am.
Could you talk about the first time you walked on the yellow brick road?
MW: That was a momentous occasion, I have to say. I grabbed somebody's arm, and I said, "Wait a second, stop! We're on the yellow brick road!" I have been thinking about stealing a little piece of the yellow brick road. But how many people get a chance to say that? It's a part of cinema. It goes beyond cinema; it's part of cultural history.
What is your strongest memory as a fan of the 1939 film?
MW: The munchkins. What do I remember the most? Well, I was in a school play, or a community theater play of Wizard of Oz, and I played a lullaby league munchkin, so I'm really drawn to them.
Are you excited at the prospect of being a strong character who's integral to the plot and can be someone who young girls in the theater can look up to?
MW: [Laughs] As the mother of an almost 6-year-old daughter, I'd say absolutely.
What has her impression been of seeing this world?
MW: I'd have to let her tell you.
Are you prepared for the going to Disneyland in the future and having someone who looks just like you?
MW: I don't know; they just get me here to act! They don't tell me any of this doll, park, ride business!
What has doing such a very large film taught you about the craft of acting that you didn't expect it to?
MW: I guess I didn't realize it was this big! Sam can situate himself inside of any character and have the most in-depth conversation from that character's point of view about how they would behave in a scene. I would say, it's up there with the most collaborative environments I've ever worked on. And I got to make Blue Valentine, which was just two actors being allowed to do anything they wanted and follow any impulse at any time, no matter how ridiculous, insane, upsetting, whatever it was. But like I was saying before, I've had to flex my imagination in a way that it almost feels like a muscle that was sort of getting underdeveloped or something. And also some of the shots that we've done, we've done really long tracking shots that involve crowds and . . . you know, you land in your bubble, and you walk through a crowd, you're greeting the crowd, you're saying your lines to James, you're walking up the stairs, you're in a long dress, you can't trip on your dress, you have to keep your wand in your left hand, you're still talking to James, and then you're relating to people, and then you're coming up to the stairs and then you turn around . . . and it's all in one shot, and it's like a three-and-a-half or four-minute take, and it was so exhausting after that. I was like, "Woo! I gotta get back in the theater!" Like, the movies that I make they wouldn't have the capability, the budget, the crane to make that kind of shot. So stamina, endurance, imagination, those things are coming into play. And it's always nice to get better in areas that you're a little weak, so I'm enjoying it, and I find it as challenging as any other movie that I've made.