Midnight in Paris DVD Release Date Is December 20
What to Rent: New DVDs This Week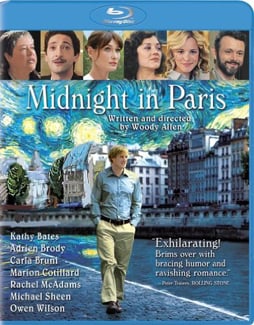 Woody Allen directed this magical film about a starry-eyed writer (Owen Wilson) visiting Paris with his fiancée (Rachel McAdams). When he discovers a way to experience the dreamy Paris of the 1920s and its icons, he questions his happiness in the present day. This romantic movie is a delightful confection that will make you fall for Paris, Wilson, and director Allen (and it's been racking up award season nominations). The DVD includes a featurette about a press conference for the film at the Cannes Film Festival.

93%
Tom Hardy and Joel Edgerton play estranged brothers, one a former soldier and the other a family man hurting for money, in this drama about mixed martial arts. When the brothers end up in the same MMA tournament competing for a cash prize, they are forced to face each other inside the ring, along with their family problems outside of it. The movie has a satisfying emotional punch and a knockout performance from Nick Nolte as the men's father. The extras on the DVDs include deleted scenes, two commentary tracks, and a few making-of featurettes.

83%
See one more new release after the jump.
An impressive ensemble cast including Zachary Quinto, Kevin Spacey, Demi Moore, Stanley Tucci, and Penn Badgley star in this drama about the 2008 Wall Street collapse. Quinto plays an employee at a financial firm who's given information about the impending crisis and has to figure out what to do with it, while facing the heat of the panicking executives at his firm. DVD extras include a commentary track, deleted scenes, and making-of featurettes.

86%