Midseason Review of Accidentally on Purpose
TV Show Check-In: Accidentally on Purpose
Last week, I did a check-in on Cougar Town to let you know what's so great about it, and today I'd like to mention another show that I don't normally recap, but have been watching and enjoying: Accidentally on Purpose. The freshman comedy stars Jenna Elfman and Jon Foster as Billie and Zack, a couple who gets to know each other and starts dating after she gets pregnant from a one-night stand.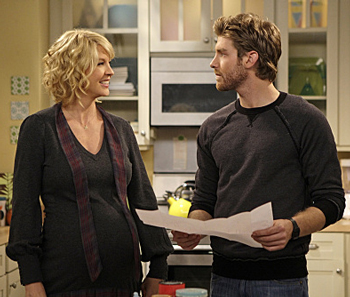 First impression: I thought the pilot was cute enough, and I kept up with the show since Billie's pregnancy keeps things moving at a rapid pace.
Why I'm still watching: The show has found a chemistry winner between Elfman and Foster, who plays Billie's baby's father, Zack. When the show was just about them trying to get along platonically for the sake of their unborn baby, it almost lost me, but the decision to let them be together in the middle of the season was a great one. There's no need to keep them apart — watching them figure out a relationship and parenthood is entertaining enough. Also, though some of the jokes are a little lame, the show seems like it's toning down the antics of the friends, as well as Elfman's over-the-top punchlines and mannerisms.
To hear why you should watch and see a funny clip of the show, just
.
Why you should watch: If you're looking for a traditional sitcom that's pretty non-offensive and not a huge investment, Accidentally on Purpose fits the bill. It's a sweet look at a relationship between an older woman and younger guy that only revolves around the lightest of issues.
Photo courtesy of CBS