Midseason Review of NBC's Community
TV Show Check-In: Community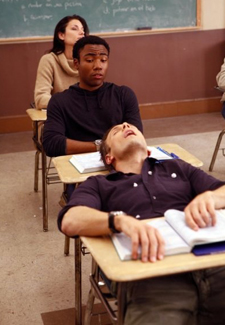 I've already handed in my midseason evaluations for Cougar Town and Accidentally on Purpose, but another show that I've been following is Community. The lead-in of the NBC Thursday night comedy lineup, the show centers around a group of social misfits at Greendale Community College who band together to form a Spanish study group. Joel McHale stars as Jeff, the leader of the motley crew but the show also features other familiar faces, including Chevy Chase and Mad Men's Alison Brie.


First impression: The pilot really plays up a fun, Breakfast Club-type vibe for the series, but I was leery that the show was relying too heavily on such pop culture references for its yukks.
Why I'm still watching: The quippy pop culture stuff is still in there, but the writers have also taken the time to explore each of the characters, which is what really keeps me coming back. In the beginning, Jeff just seems like a stereotypical wise-ass, but over time he's begun to question his own moral compass — and dare I say, show a vulnerable side thanks to his will-they-or-won't-they relationship with Britta (Gillian Jacobs). Best of all, the entire group is really starting to gel as friends. I'm particularly fond of the pairing of Abed (Danny Pudi) and Troy (Donald Glover) who always make me laugh with the goofy antics they use to keep themselves entertained.
To see a funny video of Abed and Troy doing just that, and to hear why you should watch just
.
Why you should watch it: Great characters aside, Community is also pretty smart once you look beyond some of its cheaper jokes, and it often pokes fun at society's P.C.-ness without being overly mean. To me, it's taking a cue from Parks and Recreation. Like that show, it started off slowly, but continues to pick up momentum. Need more reasons to tune in? Two words: Ken. Jeong.
Photo and video courtesy of NBC