Miley Cyrus Emoji Biography
Miley Cyrus's Life in Emoji
Emojis can add a lot to conversation, and they can even tell a story — like, say, Miley Cyrus's life story. One creative texter put together a serious string of emojis to create Miley's biography, turning them into a surprisingly spot-on story. Another look back that had us cracking up this week was an ESPN documentary about Michael Jordan's career-making basketball game from the movie Space Jam. See that and more with this week's most hilarious Internet finds:
A
Miley Cyrus

Emoji Biography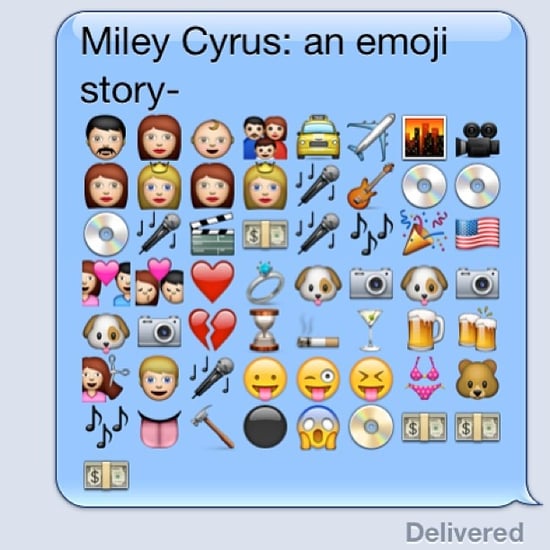 It's what Internet dreams are made of — someone out there took the time to create an emoji-inspired Miley Cyrus biography, sledgehammer and all.
Thor Actually
Thor: The Dark World may feature a lot of action, but it's actually a romantic comedy in disguise. Jimmy Kimmel Live created a movie trailer as if Marvel was marketing the movie to women, renaming it Thor Actually.
A Space Jam Parody
In honor of Movember, funny guy Nick Offerman celebrated the cause with an epic 'stache dance inspired by the movie Flashdance.
A Vine Compilation
College kid Logan Paul has a pretty impressive roundup of Vines, with videos that feature him messing with strangers, pulling off weird public stunts, and joking around at the grocery store.
An Ikea-Inspired Gravity Parody
What's more frightening than being lost in space? Being lost in a giant Ikea store with no sense of direction, no silence, and bad cell service. "It's, like, way too big."
@AllThese Drake Lyrics
#AllThese Scantrons but you had to test me... pic.twitter.com/HLvHPEC4H4

— #AllThese (@HashtagAllThese) November 11, 2013
Reimagining some of Drake's pun-filled lyrics, the Twitter user AllThese shares hilarilously random, emo lines. One of our favorites: "All these sneezes and I still couldn't get at chu."