Mindy Kaling Interview About The Office, No Strings Attached, and Subtle Sexuality
Mindy Kaling Says Natalie Portman Is "Completely Unpretentious"
Mindy Kaling may be most recognizable for her role as Kelly on The Office, but she's also one of the show's writers and has so much more in the works. Kaling is working on a book, writing a romantic comedy, and she's also appearing on the big screen alongside Natalie Portman and Ashton Kutcher in No Strings Attached. I caught up with her at the Winter TCA to talk about everything that's on her plate, including the return of her girl group, Subtle Sexuality!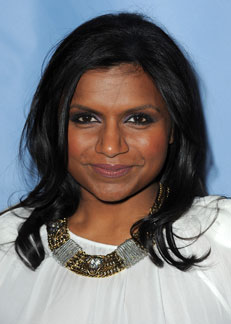 What's coming for Kelly during the rest of the season on The Office?
Mindy Kaling: It's funny because Kelly appears in episodes at the last minute to tell a funny joke. She doesn't have arcs or anything really. She'll get in a few good jokes but in a lot of ways, she's like a Simpsons cartoon. Not a lot of things happen to her — maybe one or two things in the season. I don't know though. She might get promoted but we're still not sure. That'd be kind of funny.
How was it working with Natalie Portman and Ashton Kutcher on No Strings Attached?
MK: Well, I only had that one scene with Ashton, but every day on set people would say, "Ashton got a masseuse for everyone on set!" or "Ashton got a juice truck for the cast and crew today!" And even though Natalie has been acting since she was like 10, in her heart, she's just a nice Jewish girl from Long Island whose dad is a doctor and went to Harvard. She just felt like someone I grew up with. She's so East Coast. Her parents really emphasized her education. I got along with her really well. She's completely an unpretentious kind of girl.
Was it fun to film?
MK: Yeah, you know, all of my scenes were with Greta Gerwig and Natalie, which was amazing because I love those girls. It was just a dream.
To find out about Kaling's book, the movie she wrote, and when Subtle Sexuality's next hit will emerge, just
.
When is Subtle Sexuality's next song coming out?
MK: Soon. Last Friday we shot a country pop song.
Like Taylor Swift?
MK: Like Taylor Swift. We just shot it, I directed it. B.J. [Novak] is in it. He was the best I've seen him in any episode. He was better in this than anything he's ever done. He was just amazing. I'm not sure exactly when it's coming out, but probably in a month or something. We're going to do so much press for it. I'm so proud of it.
What is the book you're writing about?
MK: It's like short essays and comedy pieces. Some are a page. Some are a couple sentences. Some are two pages. That kind of thing.
Can you give an example?
MK: Yeah! The titles are kind of self-explanatory. One of the titles is called "The 20 Things You Need to Do If You're a Guy." Another is "These Are the Photos in My Blackberry," and I just show all the photos in my Blackberry with descriptions. One essay is called "B.J. Novak," and it just talks about B.J. Novak, so it's just things like that.
Did you enjoy the writing process?
MK: Yeah, I love it. Actually, my favorite one is called "Don't Peak in High School." It's very bossy. It's basically a book of all of my bossy opinions.
What's going on with the romantic comedy that you're writing?
MK: We're looking for a director now. We just turned in our last rewrite, so we're just waiting now. I'm not the lead in my movie, so . . .
Why not? Why wouldn't you make yourself the lead?
MK: Seriously, right? If I'm writing my own movie, why shouldn't I be the star? I don't know why I did that, but we are looking for a star and that process just started right now.
Who would be your dream leading woman to cast?
MK: Gosh, there are so many. Reese Witherspoon, Kate Winslet, Greta Gerwig, there are so many lovely actresses out there.