Mindy Kaling Interview For The Mindy Project
Mindy Kaling on Celebrity Crushes and Her Relatable New Show
It's no secret that we're excited about The Mindy Project, Fox's new Fall comedy from writer/actress Mindy Kaling. Best known for her role as Kelly Kapoor on The Office, Kaling will now be taking center stage as a doctor whose career is right on track, but her love life could use some help. We caught up with Kaling at the Fox TCA party, where she talked about the genesis of her comedy, whether or not we'll see her costars from The Office on her show, and who she'd cast as her own love interest.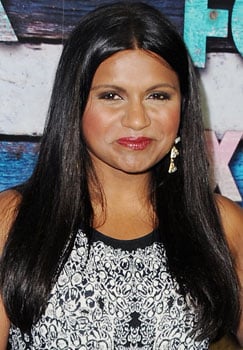 BuzzSugar: What's it like building a show that you want to be different from what else is out there, but you also want to draw audiences when viewers are often drawn to familiar territory?
Mindy Kaling: I've always found that when shows try to do high premise-y things, it grows tiresome. It can be splashy, and they'll get picked up, but I think most humans want to see some stories told. They seem cliché because the flip side of cliché is relatability. So if you execute it poorly, it will be cliché, but if you execute it really well, it's amazing. I love seeing people fall in love. I love seeing people want to change and become better people. It's inspirational. Every morning I wake up and have that feeling. I'm not like, "Oh, my own life is cliché." The writers on the show are really funny, and as long as their observations are fresh and original, who wouldn't want to see that?
Buzz: I know that B.J. Novak is heavily involved with The Mindy Project. Are we ever going to see him on the show?
MK: It seems impossible to me to be doing a show where B.J. isn't an on-camera presence, but he was an executive producer on the pilot, and his feeling is that he would love to do it, but we both thought that if he's on the show too soon, it just will make you think of Ryan and Kelly. So he's dying to do it, and I'd love him to do it, but we would have to be a little patient. There's that saying, "You need to let an audience sniff your hand," and I think they just need to sniff my hand, and trust me, and trust the world, and then we can bring in familiar faces.
Buzz: Will there be other guest stars from The Office?
MK: There might be. I wish I could say more. I will just say there's a very strong likelihood that people you see in the pilot will be coming back.
Buzz: In your TCA panel, you talked about relating to women who are in their late 20s whose careers are going well, but their love life is still in the lurch. Do you have any advice for those women?
MK: I love working. I think I'm bad about giving romance advice because I think what I want in a guy is different from what other people want. I think what I want is a really busy guy.
Buzz: Who would be your dream love interests for your character?
MK: I have three. Chris Evans, Timothy Olyphant, Danny McBride.
Buzz: Why Danny McBride?
MK: Hes so funny. That energy — that aggro, macho, dude energy, it's kind of rare now. Everyone's like a thin hipster with a 28-inch waist. He's a man. He has a mullet.