Mindy Kaling Interview For Mindy Project Halloween Episode
Mindy Kaling Spills 4 Things to Look Forward to on The Mindy Project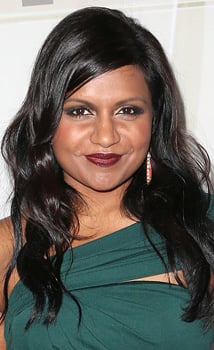 Mindy Kaling's new show The Mindy Project was recently picked up for a full season, and Kaling, the series' star and creator, hopped on the phone with a few reporters to talk about what's coming up this season. Kaling, who plays a love-obsessed doctor, gave us some juicy hints about what we can look forward to, like the upcoming Halloween episode, love interests, and other guest stars we can anticipate seeing.
Bill Hader is coming back! In the Halloween episode, airing Oct. 23, we'll get to see a familiar face. Hader, who plays Mindy's doctor ex (whose wedding she gets wasted at in the premiere) is returning for the themed episode. "I'm really, really psyched about it. Hader comes back, and there's just a lot of really funny, fun stuff. I love the holiday episodes, so we really made it special. I think you guys are going to like it."
Mindy is going all out for Halloween. Mindy will be going on a Halloween date, and she gets a little preoccupied with her choice of outfit. "I wear a series of costumes. I did about five or six costume changes. The Halloween costume is stressing my character out a lot, which is very true of me, myself. I don't have a Halloween costume, and it's already starting to make me panic a little bit. But there are some pretty awful and some pretty hilarious costumes that you get to see during the show. I look crazy in a lot of them too. By the way, they're not sexy hot-girl costumes. They're pretty funny."

Fund out what else you can get excited about when you read more.

You can hold out hope for some more alums of The Office to appear. Ed Helms has already been in an episode, but he's coming back for more. Kaling's former costar is returning for an episode that airs in a couple weeks, but he's not the only Office colleague Mindy is interested in. She commented that if the show were to go on for more seasons, she'd love to have B.J. Novak and Rainn Wilson guest star. "I can't imagine a world where I didn't ask both of them to be on the show." Don't break out your Dunder Mifflin mugs just yet, though; Kaling says it will take "a bit longer, [but] I love [Novak] and I love working with him, so I'd like to see that in the future."
We're going to be seeing more of love-interest Josh, and it's going to get weird. Remember the sports agent Mindy meets at the club? It looks like their encounter doesn't just end after that night; he'll be back for a multi-episode arc. "It's been really fun shooting with Tommy [Dewey] because on his surface he just looks like this handsome 90210 kind of character, but we're playing him as a little bit of a weirdo. He comes out a little strong, and he's a little off-putting. A lot of romantic comedies use this kind of generic, boring, good-looking love interest, and he is certainly the anti-that."