The Mindy Project Season Finale Recap
Why The Mindy Project Was Worth Watching This Season
The Mindy Project's season finale aired this week, closing out a first season that started out a little shaky but has found its footing over the last few months and become one of the season's funniest new shows. And though a lot of this success is due to Mindy Kaling herself, she's not the only one who makes The Mindy Project so entertaining. Here are the reasons why I think the series has gone from promising new show to powerhouse comedy in its first season — all of which, incidentally, are on display in this week's finale.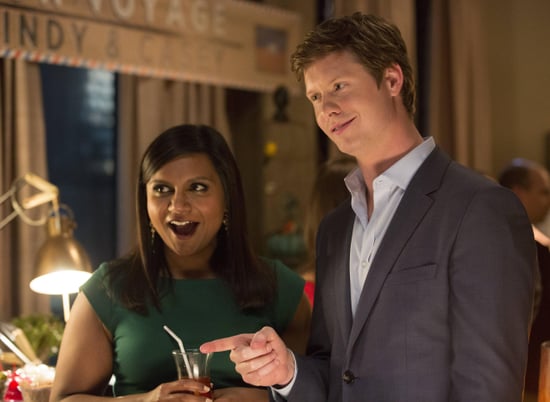 Mindy's relationship humor is now landing perfectly. When the season begins, Mindy is single, and I liked watching her dating life, but the hopeless single-girl routine has been done. However, Mindy has been shining when she's in a relationship, especially with current boyfriend Casey (Workaholics' Anders Holm). The jokes about relationships have been hilarious because they're either real or original — like last week's botched shower-sex scene or this week's laugh-out-loud bit when Casey's anatomy knocks off Mindy's glasses because they're in too-close quarters.
The love interests have been perfectly cast. Speaking of Casey, one of the reasons why I've loved his relationship with Mindy is because the actor behind the character is so funny. Holm's only the latest in a long line of awesome actors who have played Mindy's boyfriends or flings, like Seth Rogen, Mark Duplass, and Tommy Dewey (who was Mindy's first hilarious boyfriend, Josh). I hope that Mindy stays with Casey in season two or gets similarly cool stars to play her future dates. The only love story line not working? Mindy's relationship with co-worker Danny (Chris Messina). They have chemistry as friends — but not romantically.
There's less focus on her job. I love that Mindy has an amazing career as a doctor, but in the early episodes, there's a lot of focus on Mindy's patients. It didn't work, and it was just an annoying distraction from whatever funny thing was happening in her love life. Thankfully, that's been scaled back, and when we're inside the office now, we're seeing priceless antics, like anything Morgan (breakout cast member Ike Barinholtz) is doing. Seriously, anything. That guy is the best.