The Mindy Project TV Show TCA Panel
5 Reasons Why We're Excited For The Mindy Project
The TCAs are under way in LA this week, which means all of the networks are presenting their new shows for Fall, complete with panels featuring the cast and showrunners of each series. Mindy Kaling and the crew of The Mindy Project took their turn in the spotlight this morning to discuss their new comedy. This is Kaling's first time headlining a show (after spending years writing and performing on The Office), and she'll play a doctor who's looking for a movie-type romance. This is already on our list of must-see Fall shows, so read on to find out why you might be into it, too.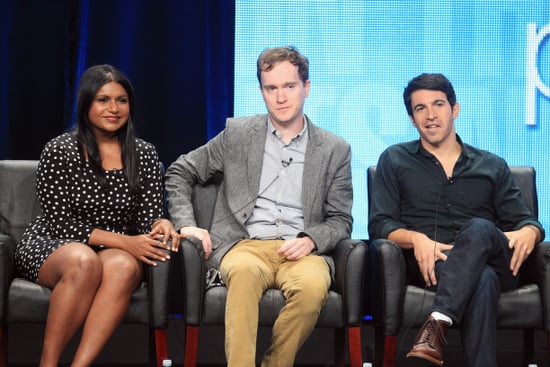 It's relatable: When asked about the "project" in The Mindy Project, Kaling revealed that it's her character's personal goal to be a better person. "She's not unlike [The Office's] Michael Scott in some ways," Kaling said, adding that "She wants to be a better person, a better catch, a better friend. She wants to read more books instead of magazines. She wants to get her life together." Kaling also stressed the importance of making the comedy relatable, specifically to women in their late 20s who have put their careers first and are wondering when their love lives are going to fall into place.
It has a big, fantastic cast: Kaling is the star of the show, but she's got a huge support system behind her. Chris Messina and the handsome Ed Weeks play her fellow doctors, while Anna Camp (who you'll likely recognize from Mad Men and True Blood) stars as her BFF. Kaling added, "In the pilot, Bill Hader is my ex. I go on a date with Ed Helms. I get to make out with this guy [Weeks]. I may get to make out with this guy [Messina]. Getting to do that is really awesome."
Three more reasons to watch when you read more.
It's going to be paired with New Girl: I look forward to Tuesday nights to get my New Girl fix, and I'm psyched that The Mindy Project will air right after it. Kaling is excited about it, too, saying "to be paired with them feels like we're hanging out with them" and called her friend Zooey Deschanel "charm on a plate." Kaling also mentioned that The Mindy Project has a lot of "dude energy," which is one of the reasons I love New Girl so much. Sounds like this could be a match made in comedy heaven.
There are pop culture references to romantic comedies and beyond. Kaling's character is obsessed with the romantic-comedy ideal of love, so naturally the pilot is chock-full of references to movies like When Harry Met Sally. The showrunners said the show will pay homage to Nora Ephron's work, but there will be other pop culture references as well. Kaling mentioned that the entire writing staff is obsessed with Game of Thrones, and joked that "it's mostly Game of Thrones references: dragons and stealing eggs of dragon babies."
The show won't steal Kaling away from The Office completely. I first fell in love with Kaling and her comedic style as Kelly Kapoor on The Office, and will definitely miss Kelly's amazing one-liners on the comedy. Luckily, she'll still pop up in a few episodes, including the season premiere. As an added bonus, The Office showrunner Greg Daniels will direct one of the episodes of The Mindy Project, and Ed Helms appears in the pilot. The panel teased that there will be more guest stars to come, so here's hoping we might see even more crossover between the two shows.
To see more pictures from the panel, just read more.