Minka Kelly Talks About Charlie's Angels Reboot
New Charlie's Angels Is Like "If Jack Bauer and Carrie Bradshaw Had a Love Child"
Charlie's Angels has seen a few incarnations through the original '70s series and the more recent films, and now it's coming back to TV this Fall with a new group of crime fighters. Annie Ilonzeh, Rachael Taylor, and Minka Kelly play the iconic angels, and they hit the TCA with their "fourth angel" Bosley (Ramon Rodriguez) and showrunners to talk about how they came to be cast, and how this reboot is different from its predecessors.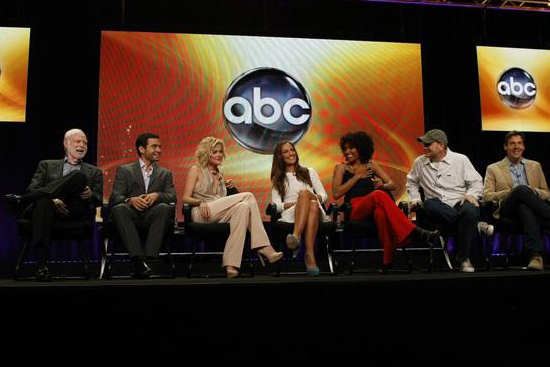 Creator and executive producer Al Gough said that the casting for the show took a long time, and Kelly's character wasn't really a part of the original cast of characters. When she came in, Kelly didn't quite fit into any of the angel roles. Gough recalled that producer Leonard Goldberg said of her, "That girl is an angel . . . unfortunately she's not one of the angels you've written," so they had to rewrite to create the character of Eve specially for Kelly. Of the tough character, Gough said she's "a badass but she's very warm," and that "it's a Minka Kelly you've never seen before."
Movie angel Drew Barrymore is producing the show, and Gough described her involvement as "the archangel of Charlie's Angels," saying that while she is busy, she and her company are very involved, doing things like reading scripts and sending notes on them. Gough says Drew sends emails of encouragement, and star Taylor also noted that she is "very involved" in the costumes.
The ladies were asked if they'd seen the TV show or movies, and Taylor admitted to never having seen the original series — on purpose. She said she's taking "the passing of the baton quite seriously . . . but as actors it's important to do something fresh." Ilonzeh has watched the show and the movies, and she said that their "commonality is that they have the camaraderie," with a big difference: this time around, Bosley is considered another angel.
To find out more about Charlie's Angels, just
.
So how is this new series different from its predecessors? It has the same "idealized female friendship" as the movies, according to Gough, but this version is "more grounded" and they're striving to make the women feel more real. This time around, they'll explore the mythology of Charlie more, and we'll see that each angel has a spotty background, and it'll be about Charlie giving them a second chance. "It's about redemption," Gough said. Perhaps the cheekiest description of the new show came via star Taylor, whom Gough credited with saying, "If Jack Bauer and Carrie Bradshaw had a love child, it would be Charlie's Angels."
Rodriguez said we'll find out a lot of Bosley's back story through Charlie. The character certainly sounds more interesting this time — the actor said he's "a safe house" with lots of secrets about everybody.
Robert Wagner was originally supposed to voice Charlie, but he had to drop out due to scheduling issues. He hasn't been replaced yet, so the role is still open.
Photos copyright 2011 ABC, Inc.