The Mob Doctor TV Show TCA Panel
Why The Mob Doctor Is Like "E.R. Meets The Sopranos"
My Boys star Jordana Spiro makes the leap from cable comedy to prime-time drama with the new Fox series The Mob Doctor, and the actress came to TCA today to talk about the show with her costars and showrunners. Spiro plays Grace Devlin, a doctor forced into doing the dirty work for the Chicago mob in exchange for keeping her family safe, a premise that executive producer Rob Wright describes as being like "E.R. meets The Sopranos." Those are two iconic series to live up to, but here's what the panelists had to say to back up that idea.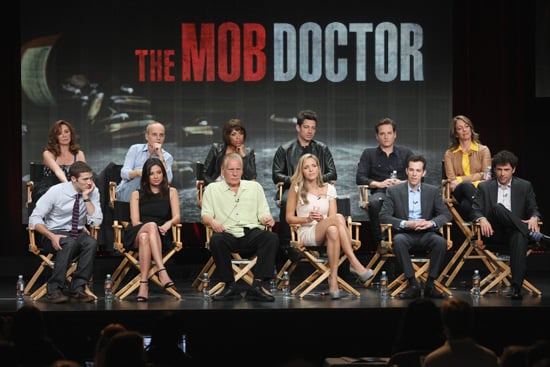 Cocreator Wright supported his comparison to E.R. and The Sopranos by saying that the intersection of the doctors and the mob members gives them "both high brow and regular people," while his fellow creator Josh Berman said that the character of Grace will have her morality compromised. In case you're worried that it will take Grace a whiIe before she gets her hands dirty, Berman assured us that "something will make Grace step over the line" within the first few episodes.
Even though Spiro is known for her comedy My Boys, it sounds like she's happy to be doing drama. She described her younger self as "kind of emo" who fancied herself a dramatic actress, "but fell into comedy."
Lots of deaths come with the territory of a mob show, but the other characters who play doctors and nurses aren't safe just because they're not directly tied to the mob. Zach Gilford, who plays a fellow doctor and love interest for Grace, explained, "We're all expendable in a mob world," while Floriana Lima, who plays a nurse, said she wanted to be put in danger: "I'd like to be involved with the mob stuff."
So, are there mob doctors in the real world? Wright and Berman did research about their very existence when they had the idea for this show and found a book called Il Dottore, about a real-life doctor who worked with the Mafia. The studio bought the rights to the book, which then provided some more inspiration for the series.
To see more pictures from the panel, just read more.