Modern Family Emmy Press Room Interview
The Modern Family Cast Talks About Their Emmy Underwear
Modern Family snagged their second Emmy for best comedy tonight, and since stars Ty Burrell and Julie Bowen had also received acting awards, the cast was full of glee as they hit the press room. They and their showrunners, including series creator Steve Levitan, chatted about their new streak, how much they all love each other, and their very specific underwear choices.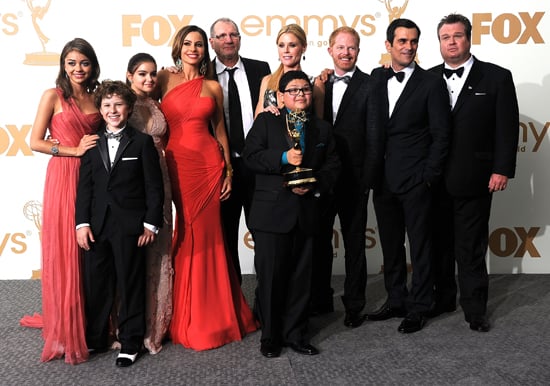 Ed

O'Neill

on winning for best comedy: "I wanted to win it very badly. For me it was better than the first time. To repeat is difficult, for us to have done it — I'm relieved."
Levitan, on how the cast will celebrate their win: "Those over 21 will be drinking. We're going to go out and have a party and hang out together and have fun."
Sofia Vergara, on what she was wearing under her gown: "I wear my underwear from Kmart from my Kmart line!"
Vergara, joking about what O'Neill was wearing under his suit: "My Kmart underwear too!"
Eric Stonestreet, on why the cast submitted themselves for supporting acting categories instead of leads: "There was really no decision. It was the same last year as it is this year. We consider ourselves an ensemble cast. No one carries the weight more than anybody else on the show."
Catch up on all our Emmy press room coverage here!