Modern Family Feud on Jimmy Kimmel Live | Video
Modern Family Feud, #StarbucksDrakeHands, and More of What Made Us LOL This Week
Jimmy Kimmel hit a home run with "Modern Family Feud," bringing the cast of Modern Family onto his show to play the classic game show Family Feud. Sofia Vergara's answers are predictably hilarious, with her castmates cracking up over her response to what types of pictures people post on Facebook. It was one of several funny videos to go viral this week, with SNL's fake Fifty Shades of Grey auditions featuring some seriously on-point impressions and the strange #StarbucksDrakeHands trend inspiring all kinds of parodies. See all that and more with this week's most LOL-worthy Internet finds:
Modern Family Plays Family Feud
When the cast of Modern Family visited Jimmy Kimmel Live, the Pritchetts played against the in-laws in one hilarious round of Family Feud.
Woody's #StarbucksDrakeHands
What would you do if a girl with telekinetic powers freaked out at a coffee shop, throwing a man up against the wall just by moving her hand? Well, the promoters behind the Carrie remake made it happen, and the reactions of the witnesses are pretty priceless.
The Chance to Drunk Dial Congress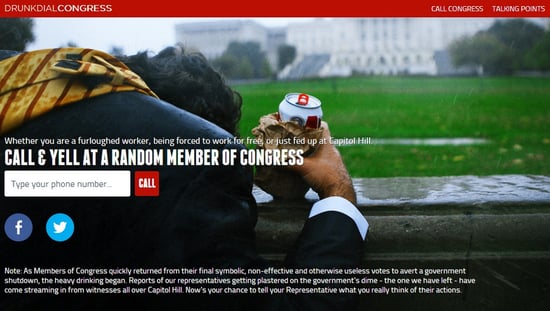 Thanks to the current government shutdown, there are a lot of people who aren't too happy with Congress. Enter DrunkDialCongress.org, which allows you to type in your phone number and connect to a random member of Congress. It's a full-service site, with talking points and drink recipes like "The Sleepy Senator."
The Hangover III Outtakes
Jimmy Fallon brought the Norwegian comedy duo Ylvis to late-night, sporting a full-on fox suit and joining the guys on stage for their live performance of "The Fox" — which was just as weird in person as it is in the music video.