Modern Family PaleyFest Quotes
PaleyFest: Modern Family Stars Bring the Laughs
PaleyFest ended on a high note last night as America's favorite Modern Family came out to talk about their hit comedy. The audience got a sneak peek at the show's next episode, and the cast sat down to answer some questions. The panel, which included Julie Bowen (Claire), Ty Burrell (Phil), and Sofia Vergara (Gloria), had no shortage of funny answers and great one-liners as they kept the audience laughing the whole night. Check out the most memorable moments.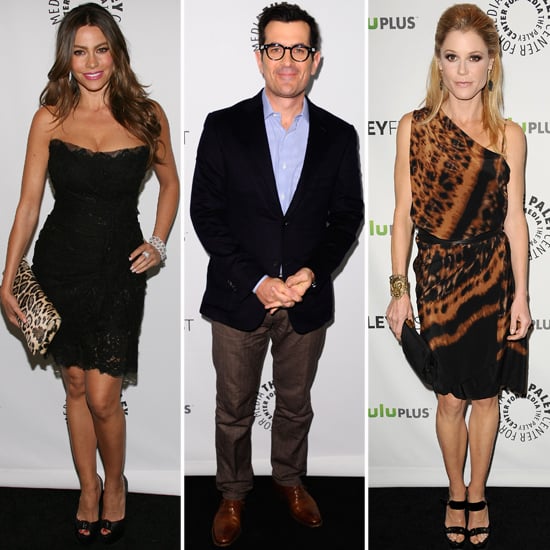 Nolan Gould (Luke) on feeling like they're a family: "It feels like my real modern family. Like leaving my real family and going to my other family. You know, Julie is always messing with my hair and picking lint off my clothes. Seriously, like every day I leave the set my hair is like Einstein's because she's always messing with it."
Burrell on how Jesse Tyler Ferguson (Mitchell) has the hardest time keeping a straight face: "Sometimes we'll start a scene and there's no particular joke in it and he'll just start laughing at the absurdity of the fact that we're all pretending to be other people."
Ferguson on the most intimidating thing he's done on the show: "The ice dancing thing was scary for me." To Bowen: "You were light as a feather, and remain light as a feather. I just wasn't sure my muscles were big enough for that feather."
Eric Stonestreet (Cameron) on being nervous about riding a horse: "I feel like when we all walked into the corral to get on the horses for the first time, like, the horses were looking at all of us and thinking 'no, no, not you. Sofia, you're fine, Julie, you're fine, but please no, not you.'"
Bowen on taking a spill in the Wyoming episode: "I wasn't supposed to fall! I hit the ground so effing hard and all I remember was thinking, 'If you don't turn around and deliver your lines right now they will cut and this fall will have been for nothing!'"
Ed

O'Neill

(Jay) on having Vergara as a wife: "When they first told me I was going to be married to her I thought, well it makes perfect sense."
Vergara on working with O'Neill: "He helps me a lot with my pronunciation, but sometimes he confuses me more."
Creator Steve Levitan on bringing in the dog, Stella: "The dog was Gloria's idea. Sofia is a wonderful actor but she's not that good of an actor. Once we realized she hated the dog we just had to write it that way."
Vergara on working with the dog: "I'm not used to having a little dog on top of me and it licking my face. I'm from Colombia where we have big dogs and they live outside in the yard and they sleep outside of your houses. They don't sleep in your beds on your pillow. It's not that I have anything personal with it. And she's very heavy to carry her. It smells like the foods. It's disgusting!"
Burrell on the episode "Virgin Territory": "It's a lot of pressure watching an episode like that and realizing I'm never going to be that good of a parent. When my daughter loses her virginity I'm just going to sit her down, show her the episode, and be like 'alright we're clear, we all learned a lot. Good.'"
The cast talked about working with Aubrey Anderson-Emmons, who plays Lily. "Lily couldn't be here because she's already in rehab," Ferguson joked. Stonestreet weighed in on the ridiculous amount of backlash they received for recasting a 2-and-a-half-year-old. "Can you imagine when they're 19? I think they won't be friends." They joked around and made rivalry predictions that "old Lily" and "new Lily," who are actually friends now, won't be friends as teenagers.
Stonestreet on the most gratifying thing about being part of a gay couple on prime-time television: "There is nothing more gratifying than going to a place like NASCAR, and a guy carrying a giant tire says, 'My wife and I love your show, man. Where do you get those shirts? My wife is always trying to dress me like Cam and I'm like, man, I love Cam, alright!'"