Modern Family Press Room Quotes From 2011 SAG Awards 2011-01-30 19:09:38
The Modern Family Cast Celebrates Their SAG Win and the Compliments They Get From Their Audience
The cast of Modern Family hit the press room after grabbing the SAG award for outstanding performance by an ensemble. They talked about the different reactions they've gotten from families who watch the show, and joked about their gorgeous costar Sofia Vergara.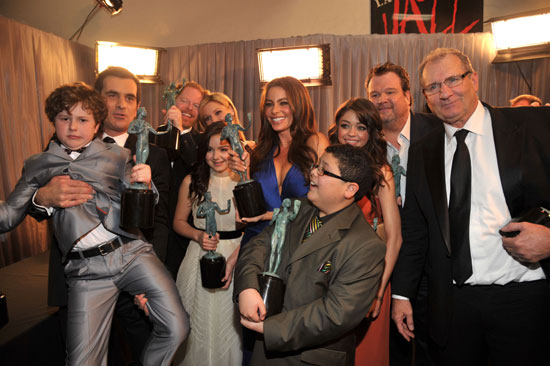 Ty Burrell on the audience reaction to the show: "The best comments [I get] are that families are watching it together."
Eric Stonestreet on being approached about the show: "For Jesse and I, we get comments and compliments from gay moms and gay dads, and kids of same sex parents; they say, 'Hey, thanks for being a couple that I can point to,' like, 'Cam and Mitchell are kind of like my family.' Things like that that transcend our job."
Stonestreet, on being overwhelmed by costar Vergara's assets: "We passed that in week two. We got all the lurid comments out of the way, at least I did. I just can barely not stare at her. Am I looking now?"
Be sure to stay tuned for more press room highlights and be sure to vote on all of our SAG winner polls!