Mom TV Show Trailer
Pilot Scoop: Mom
Anna Faris comes to CBS this week with a sitcom fresh from The Big Bang Theory creator, Chuck Lorre. Mom centers on Christy, a newly sober woman caught between two kids and a meddling mother (Allison Janney) who's found her way back into Christy's life. We already know Justin Long and Octavia Spencer will guest star this season, but is Mom worth checking out to begin with? I got a sneak peek at the pilot, so read on to find out if you should watch tonight.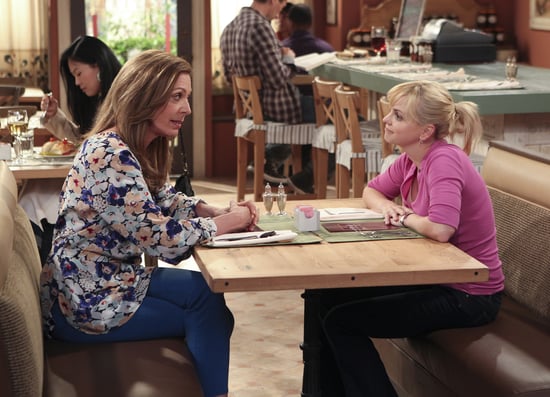 What it's about: Christy is several months sober and finding life hasn't gotten much easier. Her teenage daughter (Sadie Calvano) still hasn't forgiven her for her drinking days, and her boss/lover (Nate Corddry) still hasn't left his wife. Just when things couldn't get worse, her previously estranged mother (Janney) — who is also a recovering addict — shows up, chock full of advice.
Where it works: Janney is such a talent, and it's a joy to see her on primetime again, especially paired with Faris, who is cute but still needs to find her footing. Corddry is also endearing, even if he does play kind of a weenie. Likewise, Matt Jones (Breaking Bad's Badger) is adorable.
Where it doesn't: Two words: not funny. Sobriety is a very serious topic, but with the right tone, it could be comedy fodder. This show, with its laugh track and two-bit dialogue, is not at all the right fit.
You might like this show if: You've loved Lorre's previous series like The Big Bang Theory or Two and a Half Men.
When it's on: Mondays at 9:30 p.m. on CBS
Watch a preview for Mom after the jump.