Moneyball DVD Release Date
What to Rent: New DVDs This Week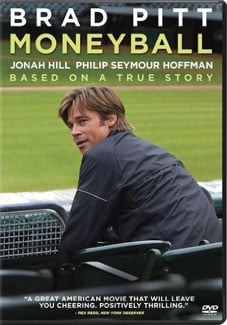 Brad Pitt takes on the role of Oakland A's manager Billy Beane in this big-screen adaptation of Michael Lewis's book by the same name. The film follows Beane as he uses unorthodox methods in an attempt to put together a winning 2002 team on a small budget. The film is a delight, thanks to an all-star cast and a smart script by Aaron Sorkin. Pitt turns in a charismatic performance, and Jonah Hill really shines as the straight-laced whiz kid who inspires Beane to look at baseball stats in a new light. DVD extras include bloopers, deleted scenes, and featurettes (including commentary from the real Billy Beane and some MLB players).

95%
Anna Faris leads this romantic comedy as a woman who decides to track down her former lovers when a magazine article suggests she's had too many sexual partners to ever settle down. Chris Evans plays her charming, womanizing neighbor who helps her with her quest. The film is chock-full of rom-com clichés, but Faris and Evans make a cute onscreen pair, and there are tons of fun celebrity cameos. The DVD includes some deleted scenes.
24%
One more new release when you
.
Jason Statham stars as a former British special ops agent who is pulled back into action when his mentor (Robert De Niro) is taken prisoner by a band of assassins. His hunt to take down their leader (Clive Owen) takes him on a dangerous chase around the world. Bonus features include a bunch of deleted scenes.
25%