Moneyball Movie Review
Moneyball: A Winning Equation
Making an uplifting sports film is easy. Making an uplifting sports film about a baseball team that doesn't even make it to the World Series? Now that's a challenge. Moneyball tells the true story of Oakland A's general manager Billy Beane, who is determined to build a winning baseball team without paying for one, and in doing so, changes the way his colleagues look at the logistics of the sport. An engaging screenplay, plenty of laughs, and spot-on performances make this a sports film that proves you don't need a Hollywood ending to be a winner.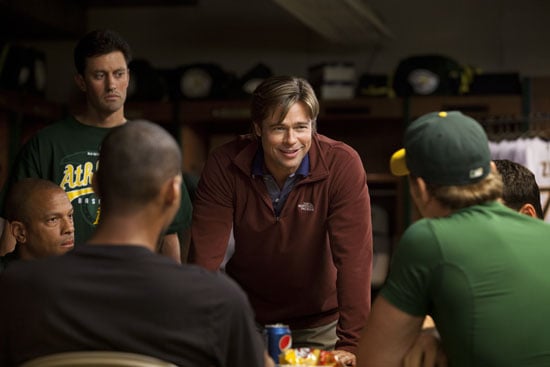 Brad Pitt steps into Billy Beane's shoes as the GM and is faced with the task of rebuilding his team after three of his best players are traded following a disappointing loss in the 2001 playoffs. As one of the poorest teams in baseball (one player quickly points out that he's never had to pay for soda in the clubhouse before), Billy is consistently frustrated when his efforts to replace his heavy hitters are thwarted or laughed at by other ball clubs. During a meeting with the Cleveland Indians, Billy meets young assistant Peter (Jonah Hill), a baseball fanatic and mathematical whiz kid, who shows Billy a new way of evaluating statistics to earn wins with mediocre players. Billy immediately poaches Peter for his own assistant, and thus begins an uphill battle to achieve the seemingly impossible.
To find out why Moneyball is worth your money, just keep reading.
A film adaptation of a book based on statistics (penned by Michael Lewis) may not sound like a laugh riot, but the sharp screenplay (written by Steven Zaillian and Aaron Sorkin) lets Pitt and Jonah Hill shine as an often-hilarious duo. Pitt's Billy Beane is charming, if not a bit arrogant, and Hill's straight-faced Peter is Billy's perfect counterpart. Moneyball marks Hill's first foray into drama, but his comedic timing is his biggest asset here, as Billy throws timid Peter right into the big leagues (pun intended) of their business behind the scenes. As Billy teaches Peter the ropes of hiring and firing in exchange for Peter's knowledge of statistics, the symbiotic relationship creates the film's most memorable scenes.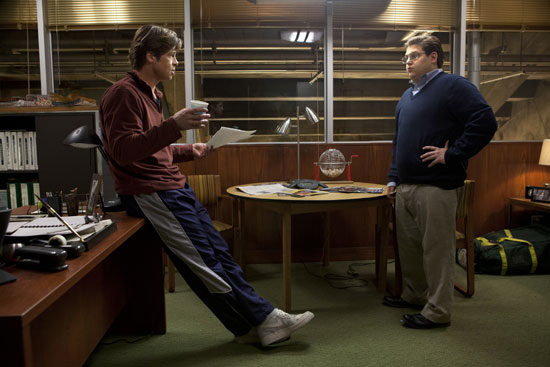 The film is as much about Billy and his own personal shortcomings at is about baseball. Pitt truly captures Billy's different levels: he's nervous about blowing the entire season and losing his job, he's still coping with his past as a promising high school baseball star who choked as a major leaguer, and he's struggling to raise a 12-year-old daughter who lives in a different city. Though some of the scenes with Billy's family feel a bit extraneous, they add a little bit more heart to the film and give the audience more opportunities to connect to the leading man.
One of the bigger conundrums of the screenplay is in creating an engaging climax and ending that works for the film and the audience without rewriting history, and the screenwriters pulled it out impressively. There's still that nail-biting moment that makes you clench your fists, even if you're already well versed in the story of the 2002 A's.
Baseball fans should find this movie easy to love: it's a glimpse into what happens off the field, from scouting out new players to fast-talking trading calls to dance parties in the clubhouse. If you're not into the sport, you may be disappointed by the slower pace of the film and some of the dry shop talk, but it doesn't take a sports fan to be inspired by the trials and tribulations of Billy Beane's game-changing experiment.
Photos courtesy of Sony