Moonrise Kingdom Review
Moonrise Kingdom: A Retro Delight
Everything about Moonrise Kingdom is unmistakably Wes Anderson: the hazy cinematography, the clever dialogue, and even the use of the director's favorite actors. Indeed, Anderson isn't leaving his comfort zone as a filmmaker, but Moonrise Kingdom is still a pleasure to watch. Set in 1965, the movie tells the story of Sam and Suzy (newcomers Jared Gilman and Kara Hayward), preteen pen pals who conspire to run away together. As they set up camp all over an island off the coast of New England, they're being pursued by Sam's scout troop (led by camp counselor Edward Norton), Suzy's parents (Bill Murray and Frances McDormand), and different authorities (Bruce Willis and Tilda Swinton). Sam and Suzy's experience with young love is sweet and complicated, and made all the more dreamy through Anderson's lens.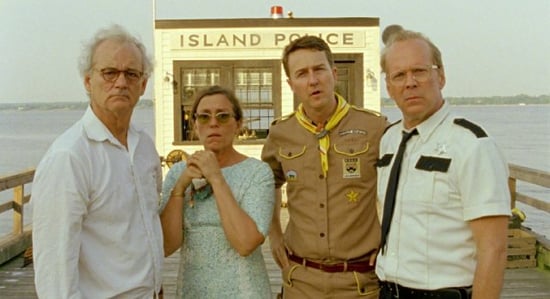 The elements might be familiar, but Anderson proves why he's such an admired director with a film like this. It's surprisingly romantic, but there's also a real threat to Sam and Suzy in the wild. Their compelling journey paired with the optical treat of Anderson's style makes Moonrise Kingdom a must-watch for fans of the distinctive director. To find out what else I liked about the film, just keep reading.
Gilman and Hayward are the unknown young actors in the lead roles of Sam and Suzy, and both are impressive as they pull off the nuances of a tween relationship; they're too young to be taken seriously, but they're more mature than their families and peers realize. We see that their connection is due in part to their respective emotional problems, and that their angst in their home lives brings them together. It's clear that Sam and Suzy's feelings are real, but you also see them as they are: two kids playing house. It's a little bittersweet, but it works to make Sam and Suzy's precocious characters relatable. No matter what your age, you can't help but feel nostalgic about first love.
Though this is Suzy and Sam's story, each of the supporting actors has a shtick that makes them fun to watch. Norton is a gee-whiz troop leader who cares greatly about the scouts he's in charge of, Willis is a lonely police officer with a soft heart, and Swinton plays a '60s Social Services worker with icy precision. But my favorite characters are those played by Jason Schwartzman and Murray, two veterans of Wes Anderson films. They're so comfortable with the dialogue and delivery that they steal all their scenes, and I wished they'd both had bigger roles.
At times, Moonrise Kingdom verges on being too precious (the adorably dressed Suzy carries a kitten and French records with her), and certain lines seem like they were crafted so they'd be easy for future fans to quote. That said, it's hard not to crack a smile while watching this movie, whether it's at a deliberately silly special effect or because a character has uttered one of the script's witty little chestnuts. Moonrise Kingdom may not be Anderson's masterpiece, but it's a satisfying, whimsical confection.