The Most Kickass Female Characters of All Time 2010-09-14 08:30:00
Which Kickass Female Do You Love More: Fox or Leia?
We're right in the thick of round three in my kickass female characters bracket with one incredibly close race: Wanted's Fox versus Star Wars heroine, Princess Leia. The women are only separated by a handful of votes, so it's up to you to decide who will move on (to rip a quote from Leia, you're her only hope!). Need help deciding? I've added a list of attributes below, so compare/contrast and then click here to make your selection.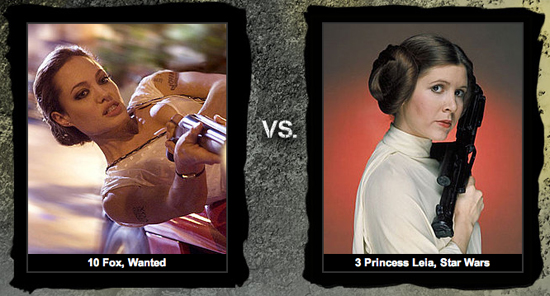 To sweeten the deal, your picks automatically enter you for a $1,000 grand prize. Just make sure you're logged in (or sign up for an account if you don't have a login yet) and fill out your bracket completely. Tell your friends to join in on the fun for their own chance to win, and check out the full list of rules here.
| Name | Backstory | Killer Style | Kickass Moments | Trademark | Partner in Crime |
| --- | --- | --- | --- | --- | --- |
| Fox | Member of an assassin fraternity who takes out men twice her size | Leather jackets, tank tops, anything snug | Curving a bullet through roughly 10 people's heads in a row | Tattoos . . . lots of 'em | Wesley, a former corporate drone who joins the club |
| Princess Leia | Princess, member of the Imperial Senate, leader in the Alliance to restore the Republic, and secret twin | Gold bikini slave outfit | Poses as an Ubese bounty hunter to infiltrate Jabba's palace and free Han Solo | Giant, pastry-like hair buns | Han, though she had a brief flirtation with Luke Skywalker |