The Most Kickass Female Characters of All Time 2010-09-15 06:45:00
Which Kickass Female Do You Love More: Ripley or Hermione?
Round three is almost over in my kickass female characters bracket, and there's a somewhat surprising rivalry brewing between Alien's Ripley and Harry Potter's young heroine Hermione. They're only separated by a few votes, making this the closest race happening right now. So, who deserves to move on? Get their stats below, and click here to make your selection!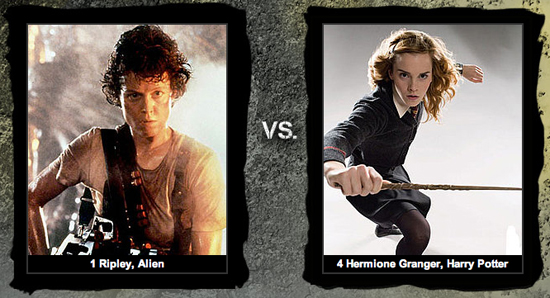 But there's more: your picks automatically enter you for a $1,000 grand prize! Just make sure you're logged in (or sign up for an account if you don't have a login yet) and fill out your bracket completely. Tell your friends to join in on the fun for their own chance to win, and check out the full list of rules here.
| Name | Backstory | Killer Style | Kickass Moments | Trademark | Partner in Crime |
| --- | --- | --- | --- | --- | --- |
| Ripley | Warrant officer assigned to a commercial space freighter; also guardian to little girl Newt | T-shirts and spacesuits | Opens the ship hatch (and holds on for dear life), thrusting the Alien Queen into space | A take-no-prisoners attitude (note the memorable quote, "Get away from her you bitch!") | She doesn't need anyone's help, thank you very much |
| Hermione Granger | Born to Muggle parents, grew to be one of the best witches at Hogwarts | The Hogwarts uniform and a wand, of course | Helps to bring down Lord Voldemort countless times | Her unmatched cleverness | Harry Potter and Ron Weasley |