The Most Overdone Costumes of 2010
What Will Be the Most Overdone Halloween Costume of 2010?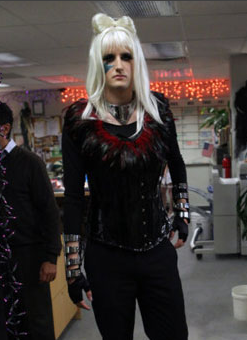 NBC really had a Lady Gaga Halloween this year, showcasing not one, not two, but three different characters in her likeness over the past two days. We had the dean on Community, Gabe on The Office, and this morning, Meredith Vieira went all out as the pop star on The Today Show. I would have thought 2009 was the year of the Gaga costumes, but I guess as long as she's wearing new (and edible) outfits, there will always be more fodder for a sweet pop culture Halloween.
Though she's been well-represented on TV, I have a feeling Gaga will have a little real-life competition this weekend from the likes of the Jersey Shore crew, or imitations of everyone's famous Glee club. Before you head out to your own parties, make a prediction: what do you think will be the most overdone costume this year?
Photo courtesy of NBC