Mother and Child Movie Review Starring Annette Bening, Naomi Watts, and Samuel L. Jackson
Mother and Child: Heartbreakingly Lovely
Have you ever been grateful to disappear into an emotional roller coaster of a movie? One that doesn't manipulate you, but genuinely makes you feel compassion and heartache? This is how I can sum up Mother and Child, a drama about the complexities of maternity from writer/director Rodrigo Garcia. Annette Bening is at the helm of the ensemble cast as Karen, a middle-aged woman who grieves daily for the baby she gave up at 14. Naomi Watts plays Elizabeth, the grownup child Karen has never met, and Kerry Washington is a conflicted wife who is pretty sure she wants to be a mother.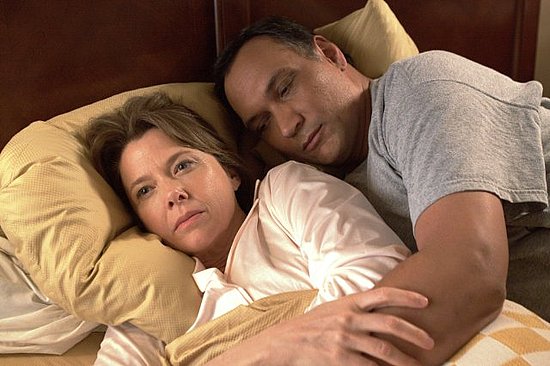 These aren't just sad, woeful women; they're strong, but also majorly flawed. Elizabeth's cavalier treatment of the lives around her is hard to swallow, but her destructive personality is a direct result of her loveless upbringing. Bening is also quite unlikeable as Karen (the nature of their shared biology isn't lost on anyone). Throughout the film, you wonder how both of their lives would have been different had they known each other all along. Would they be softer, more loving?
The pace of the movie is somewhat slow, but it's well-suited to the subject matter; it makes you think, feel, and grieve along with its characters. To find out why, just
.
The performances in this movie are stellar; not only are Bening and Watts predictably great, but the supporting cast also makes magic. S. Epatha Merkerson and Shareeka Epps (best known from Half Nelson) are both superb, while Samuel L. Jackson manages to break away from typecasting, playing the man who falls for Elizabeth with surprising gentleness.
The ensemble format, overused in recent years, actually works fantastically for Mother and Child. It allows for multiple layers of plot and character; no person is one-dimensional, and even in their lowest moments, you sympathize with everyone.
My only complaint ultimately proves to be moot; the separate storylines seem to fray as the story builds — until the climax, when the paths are organically and beautifully merged. It's an emotionally satisfying ending for a beautifully acted and written film.