Movie Poster For The Twilight Saga: Eclipse 2010-03-23 10:00:32
Twilight Eclipse's Movie Poster — Love It or Leave It?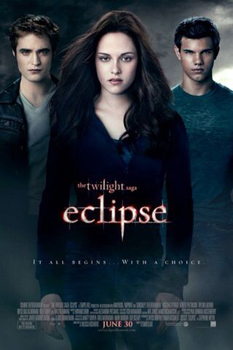 The mania rages on! We've already taken a peek at the first trailer and behind-the-scenes footage for Eclipse, and now Summit has just released a one-sheet this morning via its special Twilight Tracker iPhone app (you know, because we couldn't go a week since the DVD release without at least some deleted scene or new buzz).
In the image, Bella stands at the center between Jacob and Edward on either side, setting up the crux of the third book: Bella's choice between the guys (and whether she wants to remain human or turn into a vampire). The tagline only drives this point home, saying, "It all begins . . . with a choice." Dun, dun, dun!
It's a very simple one-sheet, but it still gets me excited for the film's release. What do you think of the poster?