Movie Preview For The Joneses Starring Demi Moore, David Duchovny, Amber Heard, and Ben Hollingsworth
Movie Preview: Demi Moore, David Duchovny in The Joneses
You know the old belief about the Joneses: everyone is trying to keep up with them. In the movie The Joneses, that's exactly what's going on around this picture perfect family, led by gorgeous parents Kate and Steve (Demi Moore and David Duchovny). Their kids, played by Amber Heard and Ben Hollingsworth, are just as good-looking and popular. Aren't they just too perfect?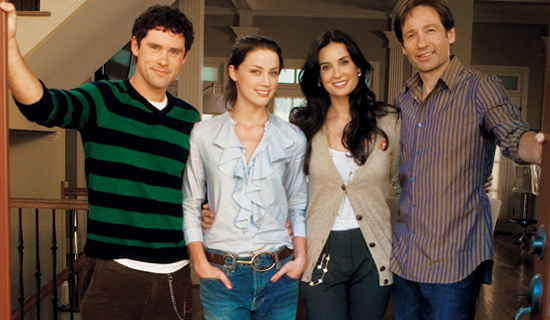 The facade is just that, and the trailer quickly reveals that the Joneses are not really a family — they've been planted in the community to sell their lifestyle. I do mean sell: their bodies and homes are full of product placement (sneakers, jewelry, electronics, clothing, cosmetics) designed to be pushed on their friends and neighbors who are jealous of their seeming refinement. Like anything too shiny, though, things start to fall apart as Steve begins to question his job and have real feelings for Kate. The premise is definitely intriguing, and the preview makes it seem like a smart commentary on our consumer culture. Not to mention that I can't help finding Duchovny irresistible after all these years, and I'd totally buy him falling for Demi Moore (it's a nice change from the PYTs he seduces on Californication).
To see the trailer, just
.