Movie Review of Clash of the Titans, Starring Sam Worthington, Liam Neeson, and Ralph Fiennes
Clash of the Titans: All Bells and Whistles
Since Clash of the Titans is ultimately a film about history — mythology, at least — let's examine the film's own past, shall we? The original defined campy with a young Harry Hamlin in a toga, Laurence Olivier as the almighty Zeus, and a mix of stop-motion moving creatures that are about as technologically advanced as you get in 1981.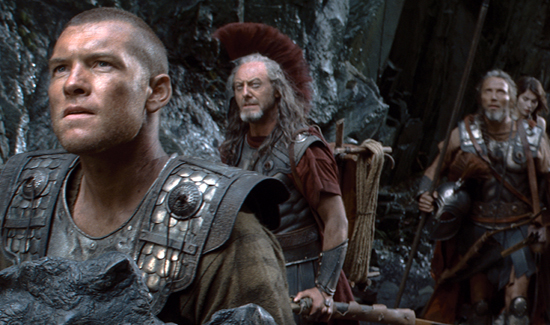 In the film, demigod Perseus is given the task of killing the Kraken, a giant sea monster out to destroy the town of Argos — or devour Perseus's lady love — unless our hero can kill it. It includes a strange mix of Greek myths melded together for a semblance of a plot, yet it's okay, because you feel like it's supposed to be ridiculous. But flash forward to 2010, and the new slicked out (and surprise, 3D!) Clash of the Titans maintains a serious tone with the exception of a few forced jokes, ultimately missing out on most of its predecessor's sense of fun. To see what I mean,
.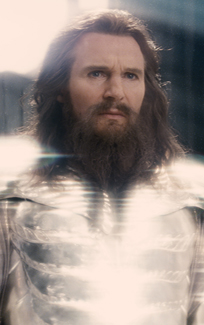 Man of the moment Sam Worthington steps into Perseus's sandals as the son of Zeus (Liam Neeson). When his human family is killed at the hands of Hades (Ralph Fiennes), Perseus seeks revenge by teaming up with a rag-tag group of soldiers. His mission: to save the people from the Kraken, so he can off Hades.
Whereas in the 1981 version Perseus was driven by his affection for Argos princess Andromeda, this time he's just out for revenge (indicated by his stubbornness and guttural screams). Of course, Hollywood wouldn't miss out on a love interest, so they've added Io (Gemma Artherton) — an ethereal guide who also serves as the narrator. It's through her that the writers squeeze in exposition to explain the story. It feels like a futile task, however, because clearly this film is just focused on giving us as much eye candy as possible.
And there is a lot to look at. Every battle scene has so much going on, it's difficult to know where to focus between swooping CGI birds and giant desert scorpions. As far as those visual details and special effects go, Clash of the Titans can make for a weekend popcorn flick (if you don't care about things like plot), but be warned: since the movie was shot in 2D and later altered, none of the shots are as eye-popping in 3D as one might hope. My recommendation: if you do go, see it the old-fashioned way instead. You know, as the Greeks would have wanted.
If you'd like to review a movie you've seen recently, check out the Movie Reviews Group in community. I may even feature your critique on the site!
Photos courtesy of Warner Brothers